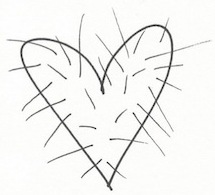 Cactus Heart, a new e-literary journal, seeks original poetry, fiction, nonfiction, art & photography.
They're looking for spiny writing—writing that is sharp, relentless, coursing with energy and able to thrive in the harshest of places, all while maintaining a vulnerable, succulent interior.
Their inaugural issue – in full-color PDF format – is expected to go live May 15.
Submissions are accepted on a rolling basis,but must be received by April 15, 2012 to be considered for Issue #1.
For more information, visit their website.
*     *     *     *     *
Indies Unlimited is pleased to provide this submissions information for the convenience of our readers.  We do not, however, endorse this or any magazine/contest/competition.  Entrants should always research a venue prior to submitting.[subscribe2]