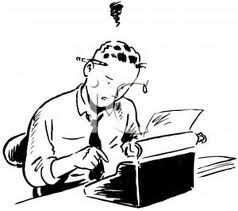 In case you haven't figured it out by now, you are probably not going to make a lot of money from creative writing. If you do, send me some. But you probably won't. So, this brings us to a conundrum…how are you going to pay your rent and bills? Well, I suggest selling cocaine. It is a compact product and the profit margin is really high. You might get murdered or put in jail, but life is about risk. I don't like risk, so I freelance. If you're a pussy like me, you might want to consider it.
For ten years, I worked with kids. I was a reading specialist. I worked with kids with learning challenges and kids from low income families. It was really great. It was tiring, but I still got my writing done. I learned a lot. Quite frankly, I loved it.
At the end of last year, I got really, really sick. I got a bad inner ear infection. I lost 35 pounds in a month. I could not get out of bed. I had vertigo. I had a constant rushing sound in my right ear and I could hear my own voice SUPER loud. I whispered a lot. I could not hear what people were saying. No one knew what was going on. I got CT scans. They did blood work. Moral of the story, I didn't die. I did end up with Patulous Eustachian Tubes (which I had to diagnose…). You have probably never heard of this. I hadn't either. (Nor had my freaking ENT).
What it means, essentially, is that my Eustachian tubes don't adjust to pressure like they should. This results in the rushing sound and loud voice. It isn't getting better. In fact, it is destined to get worse. For someone who loves music, this was a major blow. And it made teaching pretty much impossible. I could not do my job well anymore, so I quit. But I still had to make money (and I was staring at 5K dollars in medical bills).
This was not a happy time. I was freaking out. I have a wife and a kid. And neither of them were willing to take one for the team and quit eating. How could I get a job without being able to hear well? Some days are OK, but some ARE NOT, and I don't know what kind of day it is going to be until I wake up. I am qualified to do two things (on paper): teach and write. So, I started thinking about how I could make money writing.
First thing I did was move away from San Francisco to someplace cheaper. Then, I started a freelance writing business, Steady Hand Communications. Then, I freaked out some more. But it is actually going really well.
Those of us who can write well (this article has taken about 6 minutes so far) tend to forget that there are very intelligent people who agonize over writing…you know, the way we do when we have to interact with other humans. There are a LOT of people like that.
So, now, I work from home. There are positives and negatives to this. I get to see my wife and daughter a lot. I get to use my own bathroom. I get to set my own schedule. I also go days without leaving the apartment sometimes. It is hard to find a balance.
I am still working on this, but here's my point. I always thought freelance writers wrote lengthy articles and then tried to sell them to magazines. Some do. I don't. I write short articles for people. Some of them are SEO articles to drive traffic. Some are not. There are people out there looking for writers to help them write their autobiographies. There are people who are looking for editors, for people to write kids books; you name it, there are people looking. Go to guru.com and look at all the projects people post.
I am not making a living wage yet, but I am new at this. In six months, I will be. I am working for an awesome lady right now. She is nice and appreciates my work and pays me on time. Some clients will be a nightmare. I am not delusional.
Point being, this is something you might want to consider. I am a night owl. So is my wife. So is my daughter. We go to sleep late and sleep in. That's fine. And working from home allows me to work on my fiction more easily. I can fit it in during slow periods. And my commute is 14 seconds long. Something to consider. There is something very nice about being a pen for hire. If you are working a 9-5 job you hate, look into it. It's easier than you think.
*     *     *     *     *
JD Mader is a Contributing Author for Indies Unlimited and author of the novels JOE CAFÉ and THE BIKER. For more information, please see the IU Bio page and his blog:www.jdmader.com.
[subscribe2]