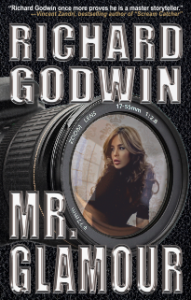 Something dark is preying on the glitz of the glamour set. Chief Inspector Flare and his partner Steele investigate a series of bizarre killings targeting the wealthy and glamorous. The killer in Mr. Glamour knows all about design and what brands mean to his victims. As the police try to catch a predator who has climbed inside their heads, they find themselves up against a wall of secrecy. The investigation drives Flare and Steele – who are themselves harbouring secrets – to acts of darkness. And the killer is watching everyone, from the wealthy businessmen to their beautiful wives. Who is Mr. Glamour? This novel will keep you guessing until the unforeseeable end.
"Mr. Glamour is a striking effort from one of the most daring crime writers in the business. It is the noirest of noir…and hellishly addictive." – Mike Stafford, BookGeeks Magazine.
Mr. Glamour is available for pre-order through Amazon.com and Amazon UK.
[subscribe2]