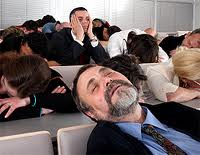 [This is a satirical article. If you want instruction on how to write a professional biography from someone  who actually cares, try this article. – The Administrators.]
One of the things an author is expected to do from time-to-time is to produce at least a short biographical blurb. These may be used for an interview, a book jacket, or even an event program in which you are a presenter. It seems a simple enough task to write a paragraph about oneself, and simpler still for a real writer.
Yet, simple though it seems, many writers have difficulty writing a bio blurb that does not have the side effect of producing heavy drowsiness. This is because most of us are boring. We write fiction (in some small part) because real life just doesn't measure up—we feel the pressing need to create a more interesting world, even if it is imaginary.
This is why fiction writers in particular find it difficult to write a bio blurb that anyone who is not closely related to them might actually read. For some reason we leave our fiction-writer tools at the doorstep when it comes to writing a bio blurb and always write something like this:
Author Stephen Hise has worked in emergency medical services administration for many years. His background is in technical writing, including regulations, policies, procedures, and medical protocols. The novel "Upgrade" is his first foray into fiction writing. Though born and raised in the Midwest, he currently lives in Arizona.
I don't know if you managed to make it to the end of that singularly dull paragraph. If you did, I imagine your brain probably translated it into this:
Author Stephen Hise worked as a pointy-headed bureaucrat and Blah Blah Blah for many years. His Blah Blah Blah is in Blah, including Blah Blah and Blah. He wrote some book . . . and something about "Raising Arizona."
Sure, you can spruce that up a bit with some artistic license and industry buzzwords, but let's face it, everyone has already broken that code:
Award-winning =  Owns "Greatest Dad in the World" coffee mug.
Highly acclaimed book = His mom didn't actually read it, but gave him five stars on Amazon.
Bestselling = Briefly ranked in the top 10 of the category "books by this author."
What to do? My operational theory is that if you can't make yourself sound remotely interesting, how can you expect anyone to find your book interesting? So, since your book is a work of fiction, why shouldn't your life be?  With this in mind, here is my new bio blurb:
Author Stephen Hise is also an accomplished inventor, holding the patents to over seventy inventions, including thong-cut adult incontinence undergarments and a safe saline-based 'no more tears'  pepper spray. In his former career as an assassin for the U.S. Forestry Service and semi-regular television game-show host, Stephen was inspired to write adventures based loosely on imaginary people and events.
See? Now, that has some cachet. If you dare call yourself a fiction writer, I say you can do it too. Put your new and improved bio blurb in the comments below and show me what you've got!