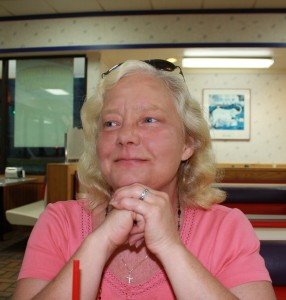 by Greta Burroughs
For the last week, I have been sitting at my computer, wracking my brain trying to finish a short story. After seven days of madly typing away, only four paragraphs appear on the screen in front of me. The countless hours working on this one story and that is all I have to show for it? The right words elude me. I have deleted more material than I have saved. Where is my inspiration? Why won't the words come to me? Have I lost my ability to write?
Desperation has set in. All I can think about is the stupid story. I need a distraction, maybe some housework. No, too close to the computer. How about yard work? Nope, I still look at the window of my office and the siren song from my computer lures me back inside.
Ah ha, an escape, I have a doctor's appointment. I hate going to the doctor's office but the nervousness and dread offer something new to occupy my battered mind – a couple of hours away from the pull of my computer, just what I need.
While sitting in the waiting room at the doctor's office, inspiration strikes. The words I have been desperately searching for come to me. That's it, that's perfect, but I don't have access to my computer, not even a tape recorder or notepad. I've got to get these thoughts down before I lose them. Why now, why here?
The other folks sitting next to me are staring; did I say something out loud? I don't care what they think. I have to write this down before I forget it.
I run up to the receptionist and blurt out, "I need paper and a pen…oh, and can I borrow your clipboard?" I don't want to say too much or the words in my head might escape from my one track mind. I nervously pace back and forth muttering to myself while I wait.
Finally, after years…er minutes of waiting, she calmly hands over the requested materials into my shaking hands. Somehow I make it back to my seat, still muttering to myself while scribbling down the words that had been repeating over and over in my brain.
All eyes are upon me, have I grown a second head or something? Hasn't anyone else ever had a flash of inspiration before or are the giggles that accompany my writing too much for everyone to bear.
I hear voices coming from the office; two men approach me carrying a large white jacket. Distractions, not now, can't these people understand I am having an epiphany, a moment of shear genius.
"I'm not crazy, I'm an author…just a few more sentences …" are my last words before being taken away to a padded cell. At least they let me keep my notes, now how do I get a computer in here…
 __________________________
Greta Burroughs has been a teacher, grocery store cashier, office manager, and a FAA written test examiner. She started her writing career as a freelance reporter for a local newspaper after being diagnosed with a rare blood disorder called ITP. The experience gained in her career as a news reporter paved the way to experimenting with writing longer pieces which eventually became books. Now, Greta has three published books and is working on two more. Learn more about Greta and her writing from her blog and her Amazon Author page. You can also find her on Facebook, Goodreads, and Twitter.
[subscribe2]