Today we're pleased to announce the winner of the 12th weekly Flash Fiction competition at Indies Unlimited.
The winning entry is rewarded with a special feature here today and a place in our collection of winners which will be published as an e-book at year end.
A total of 300 votes were cast in the contest this week. The winner (with 43% of those votes) is: Contestant #7 Monica Baguchinsky Lunn .
Congratulations to Monica, and thanks to everyone who participated – excellent entries! Now, without further ado, (release confetti) here's the winning entry: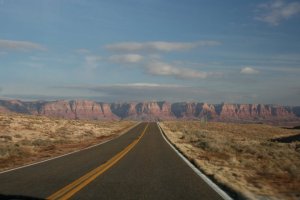 Nowhere
by Monica Baguchinsky Lunn
I turned briefly in the direction I'd just walked, toward where my little air-conditioned home sat quietly in this intolerable heat, perhaps twenty miles back now. I willed my raw and bleeding feet to march on, sweat rolling down my body.
Years I suffered in that home. Every day I walked on eggshells, not knowing if I'd be rewarded for being an obedient wife, or if I would end up huddled in a corner, trying to contain my panic, hoping he wouldn't kill me this time. Too many days spent that way.
I recalled last night…
From across the room I could smell the alcohol. Effortlessly he covered the distance between us. I could feel his hot whiskey breath on the side of my neck while he spoke into my ear, hand gripping my throat.
"I know you've been with another man…" His grip on my throat tightened as my heart raced.
He was escalating. I was pushed up against the counter. Trapped. My fingers closed around the handle of a cast iron pan.
Could I do this?
His drunken, jealous ramblings grew louder as I swung my arm quickly and hoped my aim was good.
He dropped like a stone and lay in a growing pool of blood at my feet.
My senses returned in a rush and my thinking shrunk to a pinpoint. I had to get out. Now. Running to the door, I stepped out into the hot, airless night.
[subscribe2]