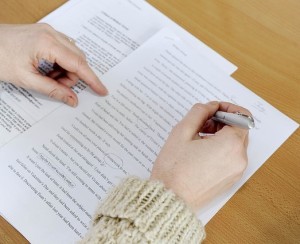 I'm not going to suggest that self-editing should substitute a proper independent edit, but I have lost count of the number of times, after handing back a manuscript, post-edit, I have been told, "I can't believe I didn't spot that" or "I'm so embarrassed I missed that". So, I wonder if I might be so bold as to offer one or two hints and tips for self-editing to help save a few red faces.
Leave yourself time to self-edit – it's no good thinking about it the day before your deadline.
Try and resist the urge to look over your work until you have completely finished. Then, walk away from it for as long as you can. Take a complete break so that you can go back to it completely refreshed. I'm not talking a few hours here – I mean days. You would be surprised at how different everything looks after you and your creation have been separated for a while.
Take off your author hat, and put on your reader hat. Don't try and correct all the mistakes at this point – just read and make sure that, as a reader, it's all making sense, there's continuity and no inconsistencies.
Read your work out loud. This is a multi-faceted function. Firstly, one speaks more slowly than one reads, so you are more likely to spot spelling errors and typos. Secondly, you will find yourself pausing for breath in appropriate places – the chances are that where you stop for breath you probably need some punctuation. Thirdly, reading out loud makes you more aware of any words and phrases that you may have repeated, overused or even misused.
If any words or phrases do stick out as occurring to the point of overkill, use the 'Find' feature in Word. It will tell you how many times something has been used and where. If you have used 'he paused' 164 times, you've overdone it. There aren't 164 synonyms for 'he paused'. Go back and determine whether the phrase was actually necessary.
And/but are conjunctions – they join two independent clauses. Try not to start sentences with them (in narrative). You don't need to other than in short sharp sentences for a little extra dramatic effect. Either delete them or join the sentences.
Remember – less is more.  Look out for unnecessary emphasis (exclamation marks, italics etc), adjectives (possibly, practically, really, seemingly, quite, etc), modifying phrases and tautology, eg the reason why. The reason IS why, so incorrect would be 'The reason why I took the shortcut to the shops was to avoid the muddy path'. Correct would be 'The reason I took the shortcut……'
Find an online version of your favourite dictionary and pin the tab so that you always have it open. Check and recheck any word you are not sure of – not specifically for spelling but for meaning. Pin tab an online thesaurus – thesauri are rich and overflowing with lovely, lovely words and synonyms – use and use and use it.
If you find yourself tearing your hair out over a word, phrase, sentence or even a whole paragraph for too long, there's a little key on your keyboard with 'Delete' on it. Use it. Chances are those words were redundant in any case.
Do a search for semicolons. Do your utmost to avoid them. "Do not use semicolons. They are transvestite hermaphrodites representing absolutely nothing. All they do is show you've been to college." (Kurt Vonnegut).
Do a search for apostrophes and check that you have used them only to assign possession or for contractions.  Apostrophes are not used in plurals (it's chairs, not chair's, 1950s or 50s not 1950's or 50's).
Walk away from your work again. Reread it, and this time check for punctuation/spelling and grammar. Try and avoid using software to do this for you. More often than not they make irrelevant, incongruous and incorrect suggestions.
Now your work is ready to hand over to your editor/proofreader (who is not your mother, your wife or your best friend). You haven't done his/her job here – he/she won't be earning money for old rope. What you are doing is making it easier for your editor to see the wood for the trees to put yet more gloss, more sparkle, more glitter into your valuable masterpiece.