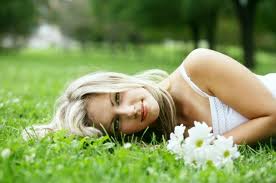 Green
by JD Mader
She felt the warmth of the rising sun crawl up her legs, but beneath her the grass was cool with dew. The contrast was pleasant, like jumping into a hot bath after playing in the snow. Her mind was calm, and she could see each blade of grass distinctly, green towers reaching toward the reddening sky. Each blade was the same height, the tops torn off by angry mower blades. Every so often a stalk stood proudly, knowing that it had escaped the fate of its comrades.
She could hear the distant call of birds. Their songs were lost in the thick air and became blips and screeches as they clawed their way through the morning haze. Her mind was simultaneously lost in the present and the past. She was lying in the grass. She was also standing on a stage. Her dance had just finished. The adults were clapping. She did not want to be a dancer. That did not seem to matter.
There were many things that did not matter. It hadn't mattered when she told her mother that she wanted to be an astronaut. It hadn't mattered when she then decided to forgo college and travel the world. It hadn't mattered when she was fifteen and she told Billy Abrams that she wanted him to stop. Funny how it all worked. Not funny funny, though.
There was a line of ants marching through the grass. She blew on them and they scattered, reforming their ranks like soldiers once the wind had passed.
The reflection of the sun expanded as it rose. It cast a pale green glow that seemed to coat her in peace and tranquility. Behind her, she could hear the moaning of the other passengers. An occasional scream. It was all very far away. She could smell the burning airplane, but somehow none of it was as important as the soft green grass and the tender warmth of the sun.
__________________
This story has appeared on the author's blog and on Morgen Bailey's Writing Blog. It is reproduced here with the permission of the author.
[subscribe2]