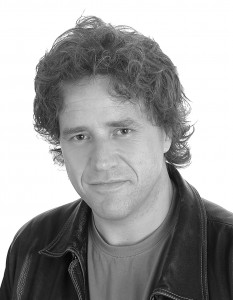 Among my family and friends in the UK, the line "said the vicar to the nun" is a staple of our slightly-naughty sense of humour. Whenever a potential double-entendre heaves into view, you can bet someone in the room will say it. At my dad's 70th birthday party last year, as he cut his birthday cake with a big knife he exclaimed, "Goodness me, that went in deep!" Two seconds later I uttered, "said the nun to the vicar," and the assembled crowd fell about. Yeah, you probably had to be there.
But this post isn't about cracking saucy gags with older relatives, it's about one writing concern many of us have: "making length". Just how long should your novel be? Ultimately your story should be as long as it takes to tell it, but, empty-headed-and-generally-unhelpful platitudes aside, it is capable of being any length you decide. Generally the mainstreams dictate that a "full-length novel" is 80,000 to 120,000 words, but with e-publishing some are saying that a novel only needs 40,000 words. As with so many things in fiction writing, it helps to look around. My favourite novel, The Time Machine, has only 25k words, but you'll be hard put to find that many superbly-chosen words so skilfully put together. At the other end of the scale we have the pros: door-stops of 200k+ words that are guaranteed mega-sales in numerous territories; household names whose editors aren't about to tell them that their latest is just too damn long. My target when I start is 100k (about 330 double-spaced A4 sides). It's a nice, round number; I like it, and now I've done it twice I'm addicted to the high I feel when I reach it.
Writing a novel, especially if it's your first and you're an unknown, is the same as trekking to the North Pole. You can't see the end, so you really need to have a map and compass. You'll do your prep work, of course: character creation, world-building, and you'll plan your little climaxes along the way (said the vicar to the nun), but you also need to decide your route: whose story it is and roughly how it's going to unfold.
The Dead Zone
When you start writing your first novel, the biggest danger is what I call "the dead zone" (actually, I call it "the bitch zone" but since IU is a family-orientated kind of site, I changed it for this post), which lies between 10k and 20k words. In the first 10k, your enthusiasm pushes you along just fine, but then that glow starts to fade, time passes, the word count creeps up too slowly. At 15k you feel good you're getting it done, so you go back to admire what you've created, maybe to remind yourself about a character or plot point. But you tell yourself something's not right, you begin to doubt the characters, the plot, then you doubt all of it. You try to push on but a voice says, "and you're not even a fifth of the way there!". You turn and glance back towards base camp, and remember the warm fire and well-stocked larder. You wonder if you wouldn't be better off doing that sponsored walk around your local park again, because everyone you know says your short stories are great.
The only answer is to keep going: stick to the map and the compass and don't look back. I strongly recommend an outline for at least the first 50k, and then to know when and how your story will climax some thousands of words after that. If you have that to guide you, after 20k+ words you'll catch a second wind and the going will get easier. You'll pass 30k and then 40k before you know it. And then you'll be halfway to the Pole, the point at which most of us would realise it's not worth turning back.
At the beginning of writing a novel you absolutely must keep writing, even if you know it's the worst collection of words ever excreted (which it won't be, by the way). You need that outline to help guide you through the dead zone. Maybe after you've written a few novels, you'll be confident enough not to need one. I'm just coming out of the dead zone in my third novel, still head down at my map, not looking backwards or forwards, just plodding on trying my best to ramp up the tension scene by scene. But if I didn't have that outline, I know I'd doubt too many things, and that would lead to me doubting the whole thing.
Remember that you can't effectively edit a partially finished story. Fix typos? Sure. Rewrite clichés? Absolutely. But not edit. Not until the whole story is out of your head and on the page. If you stop at 15k and see that about 5k words near the beginning aren't very good (pick your own torture here: wooden characters, contrived plot, too much exposition, etc), then you'll be much more likely to give up and return to base camp. But if you can wait, accept them but ignore them until you get to the Pole, then you'll see that they're not so bad: you could even delete the whole 5k and you'll still have a healthy 95k.
The things I noticed from writing my first two novels were that (a) from first draft to publication, each shrank by 10k words, and (b) about three-quarters of those deletions were made in the first 20k words of the story. But only when I'd got the whole thing out could I then face culling all those sweet filler scenes and redundant exposition that appeared so vital to the story when I'd just left base camp.
Join us next week for Part 2: Story Acceleration and Character Control!
__________
Chris James is an English science fiction writer who lives in Warsaw, Poland, with his wife and three children. He published his first novel in 2010, a futuristic court-room thriller called Class Action, and his second in 2011, called The Second Internet Café, Part 1: The Dimension Researcher, which takes the sub-genre of Alternative Realities to its logical conclusion. He is currently writing the second part of The Second Internet Café trilogy. You can learn more about Chris on his blog, or his Amazon.com
 author page.