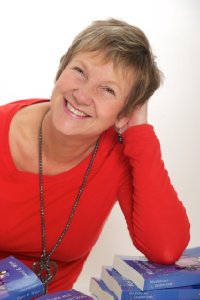 Carol Wyer has been a Facebook author friend and supporter for a long while. She is witty and funny and multi-talented.  She also flies helicopters, and I need an airborne platform for the laser death ray. I am delighted to welcome Carol to the Indies Unlimited syndicate.
Carol is an ex-teacher and linguist who used to tear around the streets of Casablanca on a VéloSoleX (you may need to look that one up) avoiding donkeys.
Having spent the last two decades trying out all sorts of new challenges such as kick boxing, scuba diving and flying helicopters she has calmed down a little and now is learning to paint, attempting to teach herself Russian (although she doesn't seem to progress much past 'dva pivo' – two beers) and writing a series of novels and articles which take a humorous look at getting older.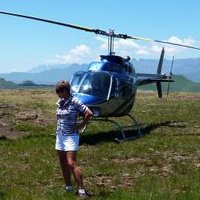 She is currently putting the final touches to Surfing in Stilettos, the sequel to the award-winning Mini Skirts and Laughter Lines, much to the dismay of her permanently neglected husband who will once again have to put up with ready-made meals and a dusty house.
To learn more about Carol, go to www.carolewyer.co.uk or follow Carol on Twitter: @cewyer.
Please welcome  Carol Wyer to the Indies Unlimited family.