"How do I get people excited to buy my book?!"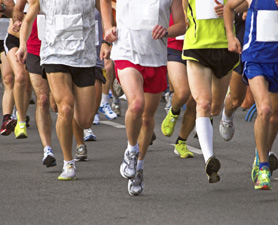 If you have a book out there, or, if you have a book that will soon be released, I'm sure you're asking yourself this over and over.
We've all been there. In March I wrote an article here at Indies Unlimited on having others promote your book—how to get reviews. In the post, I even offered you my spreadsheet of blogger reviewers and all my little notes and results. Many of you took me up on that request. I hope you were able to make sense out of it. The offer still stands—if you want it, contact me and I'll get it to you. I still believe that this is a viable option for marketing your book.
Today, I say, "Whoa, Nellie."
That March post was good and right on the money—IF you are looking to find the short-term answer to a long-term problem. You see, there is no "one-way" to do anything. In our world of self-publishing and indie writing, we have to incorporate some sprint training (the former post) into our marathon training—today's message. Stay with me until the end where I'll give you a step by step plan.
Let me ask you this, if you had the three options below, which would you choose?
A.)  A feature and review in the USA Today or *insert newspaper of choice*
B.)  A Guest Post that you wrote on a blog with a following of 10,000 rabid followers.
C.)  A two to three minute segment on either a national or local primetime show featuring your book.
While I wouldn't turn down A or C, "B" is what will bring in the sales.
We live in a different world today. Mass marketing and traditional methods of advertising are a dying breed. One huge advantage over traditional media for bloggers is the ability to turn interest into a click. You can have a great spot on Ellen, but the viewer has to write down/try-to-remember-for-later, the product with little chance of converting that into a sale. On a blog it's click … click, "Ooh—I just made a purchase!"
We have undergone a paradigm shift. It used to be that you sent your message out and HOPED people needed and wanted the thing you have. Now you send your message out to the populace that you KNOW need and want what you have. This is what mainstream media hasn't figured out yet. They are paying for large numbers of impressions (to use the Facebook terminology) where a small percentage is taking action. In today's marketplace, there are so many choices, that if it is not personalized to us, we move on.
The blogger may have a much smaller number of impressions, but those impressions (fans) are passionate and devoted to the site. Just like you guys out there in the Indies Unlimited world … okay, so we're still working on that aspect. But, that's the power of a blog with a following. Right now, you're saying, "But, Jim, how do we get that guy to let us Guest Post?"
Glad you asked. First off, you have to find out who they are. It doesn't matter what your book is about, I promise you there is someone out there that has a passionate following about your topic or message. Search the sites, look at Technorati, use hashtags on Twitter to find out who the players are in your area of interest. Go to Google Custom Search Blog to see who's blogging about your topic.
Next, you must accept that this is a marathon. You must form a relationship with that person. This is not a process for results in weeks. This is for those who are serious about a writing career. This will get you results—in years.
What? You don't have years? Oh, I forgot, you were going to get rich off your debut novel and retire on a beach somewhere. Who in their right mind (me) would EVER think that.  Your first novel is never going to be your best stuff no matter how awesome it is. Start building those relationships for your next book and the one after that.
Back to the question, how do we go about building a relationship with someone in cyberspace? Here's a stepwise program to accomplish that objective.
1. Long-term approach – add value over time.
2. Leave thoughtful comments on their blog, not just "great article." Make sure you are pulling specific points from the body of the post and commenting on them. Let the author know that you really read the post and you're not just commenting for attention sake.
3. After you've established a presence (over a period of time, not just a single comment), email them directly with content about their post. You could send them another post or article that was written about the same topic with a different opinion. Your message should be one of, "I'd like your opinion on what they're saying." You're not challenging his position, but showing that you've paid attention and are really into what they are talking about. The key is, you are not selling or asking for anything. Remember to compliment them on their blog.
4. Once you've established a dialogue, you can ask them if they would have a minute for you. This is your chance to introduce your brand and ask for advice. Keep them in the trusted advisor role. Ask if they think their audience might be interested in your topic/product/insights.
5. Don't get frustrated if you're rejected. Keep adding thoughtful comments and stay engage. That will mean a ton to the trusted advisor and he'll ultimately may come around.
6. If you are lucky enough to get to a conference or event, engage with bloggers. Ask them about their interests, how they got started, what excites them about their craft. Don't sell your book, develop the relationship without strings attached.
I know this is a tough, long road to the Promised Land. However, it is necessary for long-term sustained success. The reality is—most people won't do what it takes. Do you have what it takes to be a professional writer? Are you willing to get serious about your career?
This process isn't stand-alone. In conjunction with your other marketing efforts, you can plant your seeds for the long-term. You may look up to someone that has great success and say, "Why not me?"
It can be you, with a well thought out plan to cultivate relationships.