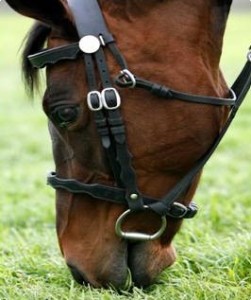 Horses, ah, yes, magnificent creatures: bold, beautiful, noble, fast, and usually misunderstood by the common person. Yup, you got it, Joe Schmo on the street couldn't tell a Hackney from a Hanoverian. So why should writers need to know? Because there are several million horse owners/lovers in the world; and chances are, they like to read too.
You've decided to write a story involving equestrian sports. And just where do you start if you don't have a clue about horses? To the internet! If you can narrow down your story, you have a better chance of getting the right research material for the job; thus presenting a more believable story.
Okay, I'm a horseperson. I've been riding and training 20+ years. But that doesn't make me an expert on everything horse. Admittedly, I have a library of over 200 horse books. Yes, I own three horses. And when it's not chucking down rain, or knee deep in mud, I get to ride once in a while. But I don't claim to know everything about them.
In my equestrian-themed story, I have a cowboy (a handsome one) and a rather uppity woman from back east. He rides reining horses, she rides dressage (pronounced Dress-sāge or druh-sahzh)—Yes, I've heard it pronounced a myriad of ways. The two meet at the World Equestrian Games held at the Kentucky Horse Park in 2010. The really cool part: I got to go! I tromped around exhibits, walked the entire cross country course, took gobs of photos, watched dressage, and basically sucked in the atmosphere.
Now that I was armed with a preliminary setting for my novella, it was time to put fingers to keys. I ride dressage, so I have knowledge of that, but I didn't know much about reining. Internet time! Finding the right site was as easy as letting my fingers do the walking. The internet is packed with sites, but the best ones to start with are the organizations for the type of riding you want to cover. In my case, I needed info on reining. So I went to the National Reining Horse Association website. Did you know reining is the ONLY western riding discipline in FEI (international level) competition?—You do now.
I poked around on their site and found some useful info. But what I was really looking for, they didn't have in "non-reining person" terms. I needed to find their equivalent of the "nationals or world championships" which almost every breed/discipline organization has. It's the year end finale, the big deal, the show everyone wants to qualify for. But what is it for reining? I found an email address and sent a nice note explaining who I was and what I was doing.
After a few emails back and forth with a very understanding lady, I got the following:
"We do have a program called the Adequan® North American Affiliate Championship. In that program they compete within their local affiliate all year long, gain points, qualify to a regional finals and then qualify to the championship show that is held during the futurity. The winner of each division in the championship show is the Adequan® NAAC Champion. Horse age doesn't matter in that competition. It's a buildup and a championship. It sounds more like what you are looking for. The prizes include a saddle, custom belt buckle, Lawson bronze trophy and payout. Of course the payout depends on the division, but it sounds like your character would be in the Open class (the professionals of the sport) and this year that payout was a little over $2,000."
Life was good; I had the golden email, and the book continued on. It required a little plot modification to make it work. I needed an event where horse age didn't matter, and was considered the regional finals for the area the story is partly set in (Texas). And thanks to that wonderful lady at NRHA, my book now had all the elements to make it believable in the eyes of another horse person.
Why did I care? Because like I said before, horse folk do get a chance to read once in a while. I've picked up books that were horse stories, and as soon as I started finding major flaws with their terminology, training, or saddlery, the book got put down. If the author didn't take the time to make it right, why should I waste my precious time reading it?
My little novella went on to be a Smashwords best seller. Since then, I've written another novella, this time centering on horse racing. I contacted stallion owners and track racing managers for information. So far, that book is doing quite well on Amazon. It's even helped boost sales of the first novella.
Click (here) for links to great and helpful websites for many of the popular disciplines of riding, training, and horse breeds. Please take the time and do the research! It's kinda fun, actually. And make sure you get the right horse breed for the job—no Shetland pony jousting, or Saddlebred polo.
For a comprehensive list of resource links, please visit this special page on my blog.