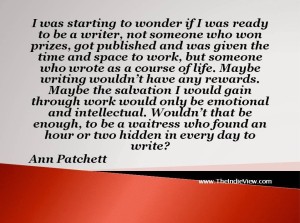 Do you believe in kismet? I'm asking because the quote in this graphic, which I stole from the IndieView's Facebook feed (and thanks for posting it, Big Al!), reminded me a little of an article posted by Kristine Kathryn Rusch on her blog last week. I blogged about Rusch's article on my own blog over the weekend. But I thought the topic might also spark a broader discussion.
Rusch makes a distinction between "career writers" and what she calls "one-book writers." A one-book writer, she says, is somebody who basically wants to tick a box on his or her bucket list. This is the person who wants to hold a book with his or her name on the cover, and to see that book on a bookstore shelf – in short, to be recognized by the literary establishment as a "published author." She goes on to say that most of the writers she has met, over the course of her career, fit this description. They may have more than one book in them, but they're not trying to make a living at their writing – either because they have other interests to pursue, or because they're convinced it's impossible. Generally speaking, she says, these folks wouldn't be satisfied by going indie. It's not that they don't want to make money from their writing; it would certainly be okay with them if the Bestseller Fairy sprinkled their work with her magic dust, so that they topped the New York Times list with no effort whatsoever. It's the learning curve that stops them. It's that they'd have to find editors, beta readers, cover artists, video production people, and promoters – or figure out how to do all this stuff themselves – and they're convinced they're incapable.
(These, by the way, are the people who are ripe for scamming by the likes of Author Solutions and Publish America. These writers don't know anything about publishing or promoting their work, and here they've found a company whose lovely website says they can do all that stuff, no problem. So what if the price tag is several thousand dollars? Maybe that's what it takes to be published. Right?)
A career writer, Rusch says, is someone who is committed to making a living at writing. This person might try several different avenues to writing-as-a-career over the course of a working lifetime – journalism, copy writing, technical writing, freelancing, even writing greeting cards – but always with the aim of making enough money to pay the rent. For them, going indie is a business decision. Getting a traditional publishing contract is more of a crapshoot than ever, and they – we – don't have time to wait around until some self-appointed gatekeeper decides our work can make them some money. The lights would be cut off for non-payment long before that happy day, if it ever came at all.
That's not to say a career writer is a hack. Any kind of writing requires attention to the craft, and career writers are often justifiably proud of their skill. Because why go through all of it – the much-less-than-a-lawyer income, the "when are you going to get a real job?" questions from well-meaning relatives – if there's no intangible payback?
Ann Patchett, in this quote, is apparently at a crossroads in her writing career. It's one that I think both one-book writers and career writers face eventually, when the reality of Life As a Writer hits them between the eyes. Do we write only to be published, or only to keep a roof over our heads, or for a "salvation…[that] would only be emotional and intellectual"?
She goes on to wonder whether that "salvation" is reason enough to keep writing. I suspect the answer would differ, depending on what you're in this for.