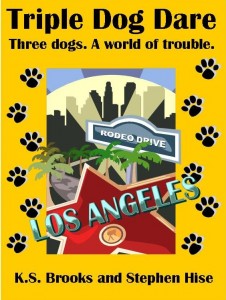 Last week, I shared with you a list of things you might want to consider doing leading up to your next book release. You can find that article here.  Now I'm going to talk about what needs to be done after the big day – when you're still suffering from your book release hangover.
As I mentioned in last week's article, this was my nineteenth release, yet things are always inevitably forgotten. Maybe even some of those things are forgotten on purpose… *cough* press release *cough*. In any case, here is a list of things I felt needed to be done once the mayhem of release day quieted down.
Post Book Release Checklist

Sleep in because you're fried
Stagger past coffee to desk
Wade through candy wrappers to get to computer
Check for new reviews on Amazon
Go to KDP screen to check final free download count
Let head fall against desk when there are no paid sales
Check for reviews on Goodreads, LibraryThing, and Shelfari
Post thank yous in book release event page, personal page, and author page on Facebook
Contact Amazon Author customer service to find out why "Look Inside Feature" is not working
Realize you've been wearing the same pajamas for three days
Lock up browser checking Amazon book page for new reviews and best sellers' ranking
Bang head against wall
Tell yourself AGAIN you'll do the press release tomorrow
Update biographies everywhere to include new title
Post release information and links on blogs
Update print book file with corrections found during final eBook formatting
Ask yourself "Why, why, why?!" when the post-freebie momentum is non-existent
Select dates for next KDP Select freebie promo
Change mind about running another freebie for now
Check in with some people to make sure they got their freebie
Consider paid advertising for next promo
Discover a tuft of your own hair between your fingers
Add book cover jpg to all social media photo albums
Scramble through the list of

Martin Crosbie's promo sites

looking for free ways to promote NOW
Break down and submit an ad request to

Kindle Books and Tips

At the suggestion of the most awesome Martin Crosbie, also submit to

ENT

despite the short notice
Panic over how the hell to kick this thing in the pants
Wonder what to do differently for the next release
Laugh at myself knowing I'm not doing anything for the release next time. It's just too much work

So, now the wheels are turning, cranking at such speeds that I'm sending smoke signals out my ears. Luckily, my co-author, Evil Mastermind Stephen Hise, is also ready for the war against obscurity. We decide to run another 99 cent special at the end of the month, and submit to ENT and KB&T, hoping to get boosted up high enough in the Amazon rankings to hit the "Hot New Releases" lists. We figure, okay, maybe I figure, that if we could JUST get on the first page of some of those lists, that maybe potential readers would see Triple Dog Dare and buy the book.
I learned a very valuable lesson from all of this. If you want to get your book in front of readers, you're going to have to use the promotional sites which have a proven track record. I'd consider our one-day freebie a success, but it was really just to say thank you to the ARC readers and our friends. On a larger scale, freebies may or may not work, but they definitely don't stand a chance if you don't get the word out through the big promo sites. Miraculously, ENT did run Triple Dog Dare at the 99 cent introductory price on Saturday, September 7th, and I have never seen a book's sales take off like that (well, none of mine, anyway). We hit #5 on the Amazon.com Hot New Releases list for comic fiction, rubbing elbows with Janet Evanovich and Margaret Atwood. Triple Dog Dare was in the top 1500 books in ALL of Amazon.com.
Right now, we're hovering around 5200 in overall Amazon rankings. Will the book stay up there? I don't know. With another promo running this Thursday, it might. In any case, I can guarantee you that this never would have happened without the twenty-three excellent reviews, my open-minded writing partner, and the venerable Martin Crosbie gently nudging us to use the promo sites. A very special thanks goes out to all of them.
Will this information impact how you orchestrate your next release?