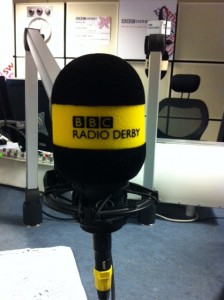 One of the first articles I wrote was about radio interview techniques. I was arrogant enough to think that after a couple of interviews, I was sufficiently expert to tell others how to handle themselves.
Looking back on that article, I now realise that although I highlighted some of the major points, I missed out important pieces of advice.
I now consider myself a veteran of the radio circuit, having given about approximately sixty interviews on BBC radio stations scattered about the UK, in the US, Australia and even New Zealand. I made mistakes along the way but now will happily chat to anyone on air for hours hardly repeating myself, apart from saying "I think" about fifteen times an interview. So here are a few pointers if you are going on a radio show.
Firstly, you must relax! Yes, easier said than done, but you are not being interviewed for a job or a promotion. The host wants to give you every opportunity to talk about yourself. In fact, the more you chat, the happier that host will be. Pretend you are talking to your best friend – no, don't tell them the sordid details of your romantic night last night – and it will be much more fun. You have just made their job very easy.
Make sure you listen to the show you have been invited on, before you give your interview. Know the name of your host. Calling Dave, Dick is not going to go down well…sorry, Dave! It's also good if you say the name of the host when you respond to questions as in, "Yes, Dick…I mean Dave…I started writing before I could walk."
Please try not to answer with your mouth full. That may sound like an obvious statement but during one interview, I was given a large yellow cupcake and greedily started to scoff it, not realising the host was about to begin the interview. (Note: interviews can begin abruptly.) The same applies to coffee or water. In my experience it is best to refuse all offers of drinks and food. I am pretty sure the technicians try to catch you out to amuse themselves.
Never take in notes. You won't be able to read them if you are in a studio. The chances are it will be dark in there and even if it isn't, you don't want to be caught rustling paper at the microphone. My first ever interview was an utter shambles because I took in reams of notes so I didn't get caught out on any questions. I couldn't see them because the lights were dimmed in the studio. I tried to get my glasses out of my handbag to help see, got tangled up in the headphone wire and knocked over my handbag, fell off the chair trying to reach for it and pulled the microphone and stand over, then nearly choked with embarrassment. Surprisingly, I was invited back for another interview but the technician said it was because I have provided the best entertainment for weeks.
Try not to consume any fizzy drinks prior to a show. Belching seems much louder when you are on air!
Turn off your cell phone. The dulcet tones of Prince singing "Do Me, Baby!" at high volume while the host is asking a question will not go down well. (It will make the tech support team break down in hysterics though.)
Make sure, if there are other guests due on the same show as you that you know who they are. I managed to confuse the cast of the excellent BBC drama The White Queen with a pop group and came out with some very strange questions about gigs and costumes.
Don't nod your head or say "Uh-huh!" You can't be seen.
If you are doing an interview overseas get the right time for the show and allow for the time zone changes. I agreed to do an interview in the USA for a show at 11am. I converted that to GMT time. Up until the very day, I was convinced I was doing the show at 3pm my time. It was only just before 3pm when I logged onto the site to listen to the hostess, that I realised the show went out at 11pm US Eastern time which meant it would be 3am my time. I won't tell you the gory details, but suffice to say I woke up my husband who came thumping into the office demanding to know what I was up to, and cursing loudly. I think it livened up the show!
Turn up early. You will have to wait for your interview but everyone will be more relaxed knowing you are in reception and not still on the bus headed their way. You may even get a longer interview.
Always thank the host or hostess, even if you think the interview went badly. You might need their support again in the future. Ask for their autograph and try and get your photo taken with them. It doesn't hurt to appreciate them. Send them a thank you note or email after the show. It will be appreciated.
Be very polite to the staff on the desk at the radio station. They have the power to put you through to the person you want when you phone for your next interview.
When doing a Skype interview, ensure you have a back-up plan if your internet goes down. As sure as eggs are eggs, your electricity or internet will fail just when you need it most.
Follow these tips and you'll have a wonderful experience. Most of all, enjoy it!