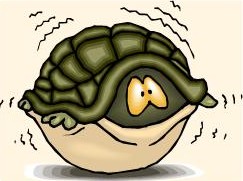 It is commonly accepted that there are a disproportionate number of introverts among writers. Writing is, fundamentally, a solitary pursuit. Even when books are co-written the authors often correspond mostly online.
There is also a belief among some mental health 'experts', based on faulty science, that introverts comprise a small minority of the general population. A touted personality test, called The Big Five system, suggests that introversion is an aberration, that we are, (depending on the 'degree of introversion'), essentially abnormal. It places everyone on a sliding scale, with extroversion as 'positive' and introversion as 'lack of extroversion, as somehow 'less' and therefore negative. They posit that introversion is maladaptive and needs to be moderated or treated if we want to be 'normal' and happy. Depending on the "degree" measured by this test, this has even led to introversion being labeled as a mental illness.
Hogwash, I say!
I think most of us are aware that psychological tests are frequently biased based on culture, economic status and the language employed in the questions. The language supporting the above theory is very telling. Introvert does not even appear as a label except to say we are 'less extroverted'. Many of the questions follow that same pattern, using phrases that fit the sliding scale in negative terms as opposed to finding terms that are neutral or positive to describe us.
To quote Adrienne Rich, (On Lies, Secrets, and Silence: Selected Prose) "Whatever is unnamed … will become, not merely unspoken, but unspeakable".
As writers, we are aware of the power of words and how we use them. Western culture and, I believe, especially American culture, has viewed extroversion as necessary for success. This has, to a large degree, led to the thinking that introversion is negative.
Fortunately this research, and the conclusions it led mental health workers to buy into, is being challenged. Carl Jung already had a very different theory many decades ago. This was picked up by Myers and Briggs, who developed the Myers Briggs Type Indicator, which is, in my opinion, an excellent tool. Jung theorizes that all of us have both extroverted and introverted traits, that for the first half (roughly) of our lives one side dominates. After age forty (roughly) the tools we gained in our early years allow us to develop the less dominant traits and 'round us out' so to speak as we age. This is, of course, highly oversimplified, but it makes sense to me. We continue to change and grow all our lives.
Newer studies now suggest that introverts comprise close to half of the population, possibly even being in the majority. (I know. Now I don't feel 'special' anymore). We are not maladapted aberrations. Rather we have strengths that are essential to a well-functioning society. We are not anti-social, not reclusive, not 'tuned out' or 'snobbish'.
Nothing could be further from the truth. The terms Introvert and Extrovert merely refer to the way we deal with our reality and where we get our energy from.
Anti-social? Not at all.We love people; we need relationships; we love deeply; and we are passionate about those we are close to. We do not spend all our time avoiding others. In fact we rely on relationships perhaps more than extroverts do. We take those relationships to a deeper, more intimate level and feel deeply when they go awry. If we were anti-social, we would not care – but we do – very much.
Reclusive? Think again. Introverts marry, have children, act, sing, teach, participate in business and all the other aspects of society. We just do so more quietly. We do not hide in our homes. We seek out others. The difference is that we expend energy in groups and gain it from a little solitude, whereas our extroverted counterparts gain energy from group interaction and cannot abide too much time in their own company. We like to 'think' more; they like to 'act' more. Is one more valuable than the other? I think not. We need both in balanced measure.
Tuned out? Snobbish? I was called 'stuck up' for most of my early life. I assure you, all my extroverted friends out there, that I do not feel superior to you at all. Quiet does not mean stuck-up.  When we become silent in a discussion, and the extroverts are getting louder to make themselves heard above the other extroverts, we are thinking about what has been said, evaluating it in our own minds. We open our mouths when we have something of value to add, something we have given serious consideration to so that when we speak it adds value to the interchange.
We tend to hash out things in the privacy of our own minds. Extroverts accomplish the same thing in animated conversations with others, often larger groups of others. Both results can be good. Yet, they are often different. What tends to be forgotten is that they are both of value, both essential to finding the 'best'.
So, my introverted friends, let's reclaim the positive in what we are. We are healthy, balanced, accomplished, successful, tuned-in and vital to our world. Drop those negative stereotypes. Wear your label proudly, knowing that your strength come from that quiet inner core we go to for our inspiration and power. Trust it.
Mentally ill? I think not!