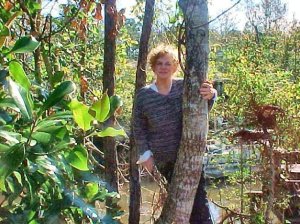 Jackie Weger writes well-researched, happily ever after romance novels in which ordinary couples fall in love and titillating tension the old-fashioned way–before they fall into bed. Romance readers love to imagine themselves inside a love story and that is something easy to do with Weger's novels. Raised to a level of imaginary word art Weger's heroes and heroines do not live in a vacuum. They are surrounded by work, family, friends and problems, just as the rest of us in our lives. The well-drawn characters in her books will make you laugh and make you cry. You won't soon forget them. Let Jackie take you on a memorable romantic journey with these titles: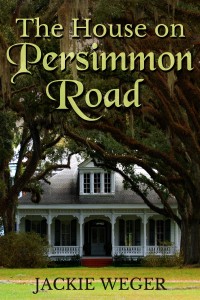 The House on Persimmon Road
Available from Amazon.
Need Help? Hire a Ghost! Lottie Roberts is restless and lonely. She's been sitting on her bones for decades, waiting for her ticket to heaven until… Justine Hale and her family take up residence in Lottie's two-hundred-year-old plantation house. Lottie senses in Justine a kindred spirit–filled with heartache and in reduced circumstances–which Lottie considers mirrors her own situation exactly. Yet Justine is trying to do the right thing. Else why is she burdened with a bankrupt mother without an ounce of common sense? Or an ex mother-in-law who looks like a pickled beet with a tongue sharper than a hatchet? And where is the father of the recalcitrant eleven year-old boy and the eight-year-old afraid of her own shadow?
Justine needs help and Lottie is of a mind to provide it. But before Lottie can say squat and Justine even unlocks the front door, Tucker Highsmith shows up to steal her thunder. His dark eyes, lazy grin, and sexy Alabama drawl coupled with the dern braggart's Mr. Fix-it talents just might be the answer to all of Justine's problems. Or maybe not…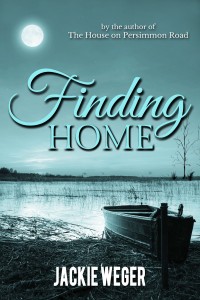 Finding Home
Available from Amazon.
Twenty-four year old Phoebe Hawley is on a quest to find a place for her homeless family. Phoebe is Alabama tough, country smart and sapling thin. On the road with two siblings, twelve year-old Maydean and five year-old Willie-Boy, Phoebe is out of money, out of gas and out of patience. Now the only things she owns in abundance are Hawley backbone and Hawley pride–neither of which she can trade for food or gas.
A collision with Gage Morgan puts Phoebe's mission in even worse jeopardy–until Phoebe discovers Gage Morgan owns the perfect place for the Hawley clan.
But Gage Morgan has a bruised ego, a tight fist on his wallet and an iron fist on his heart. Once Phoebe discovers Gage is too wily to succumb to her schemes to pilfer his wallet and claim his home, she has to try something different to win his heart.
But will Hawley backbone and Hawley pride step aside to let her do it?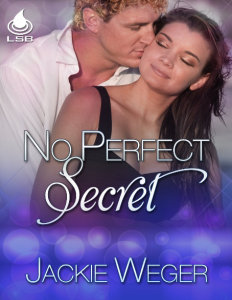 No Perfect Secret
Available from Amazon, Barnes & Noble, and iTunes.
Anna Nesmith has it all—enchanting looks, a great job, an exquisite home, a husband she should adore.
Then Frank Caburn arrives at her door in the midst of a winter storm. He was hatless, dripping wet, and exuding testosterone so thick it could've been churned into butter. An internal investigator for the State Department, Caburn insists the questions he has for Anna about her husband, her finances, and her personal life are merely routine.
Anna suspects differently. What she learns over the coming hours, days, and weeks shatters every facet of her well-ordered life. Her confidence plunges, her husband doesn't come home, her dream job has to be put on hold, and her mother-in-law comes unhinged. All she wants to do is indulge in her misery, but Frank Caburn won't have it. He realizes he will have to tread very carefully to gain her trust—and her bed.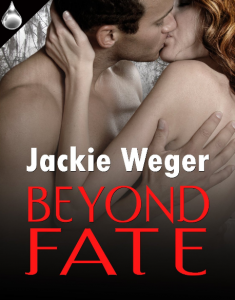 Beyond Fate
Available from Amazon, Barnes & Noble, and iTunes.
Raised by her grandmother, Cleo has lived her life in the shadow of her mother's sin. When she falls in love with a fellow camper in the Okefenokee Swamp, she struggles to cast off the shadow and come to terms with her past—and her future.
There are times when a writer creates characters that feel like family. We think about them, we dream about them, we gossip about them and while we may move on to hosts of other characters in other books, they continue to tug on our hearts. We'd like invite them to dinner and say, "Hey, what have you been up to since I last read about you?" That's how I feel about Cleo and Fletcher and Big Mama and little Katie. I am happy to tell you that I was handed the opportunity to revisit and revise Beyond Fate into an e-book by Liquid Silver Books. I enjoyed revisiting them and I hope you will, too.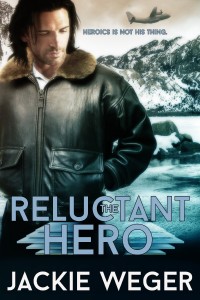 The Reluctant Hero
Available from Amazon.
Parnell Stillman, ace pilot, is man to the bone in a lackadaisical kind of way. Mischance forces his plane down in a frozen wilderness. He can survive, but his live cargo is another matter–an annoying social worker and five orphans–the most irksome freight he' has ever hauled in his life.
Rebecca Hollis is determined to force the obnoxious, disagreeable, self-centered pilot to do whatever is necessary to insure the survival and rescue of the orphans…Even if it means making the noble gesture of keeping her mouth shut—or other womanly things. But the pilot isn't having it. No way. No how. No time. He'd rather dance with a grizzly or wrestle a puma than give his heart over to a conniving, wily do-gooder. Heroics is not his thing.