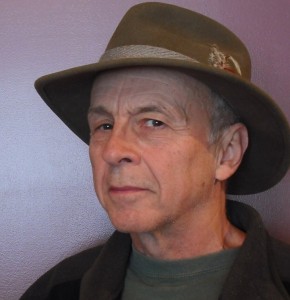 Guest post
by Shaun McLaughlin
In August, my first novel, Counter Currents, won a silver medal in a modest competition, Dan Poytner's Global Ebook Awards. (Hold the applause, thanks.) My ephemeral joy at the news rapidly dissipated, replaced by a raging internal debate between Mr. Modesty and Squire Bravado. Can I now call myself an award-winning novelist?
Mr. Modesty sternly notes that the book took second place in a field of ten books in the subcategory of historical fiction. Further, it required a $75 entry fee. Squire Bravado says numbers don't count—peer recognition does. Senior Bravado points out that the Pulitzer Prize for fiction requires a $50 entry fee.
Unable to resolve this philosophical enigma and sore from banging my head on my desk, I decided to interview real award-winning authors for advice. Out flew requests for a virtual interview.
Many authors just ignored my email, which Mr. Modesty was quick to point out is all the answer I really need. Squire Bravado countered that the three who did respond represented a stellar bunch with global reach. I have to agree.
Representing the United States is Indies Unlimited's upbeat co-administrator and author Kat Brooks. From the United Kingdom, please welcome novelist and blogger Carol Wyer, an Indies Unlimited contributor. Representing the entire southern hemisphere is award-winning author and Awesome Indies administrator, Tahlia Newland from Australia.
I asked three questions.
What award(s) did you receive that convinced you to take on the label "award-winning?"
Kat:

"My awards were won a long time ago, with my first novel, Lust for Danger (2001). I got a plaque for the 'Jada Book of the Year Award' from 2005 (it's quite handsome, actually). It's an Honorable Mention, which I didn't consider to really be a 'win,' but I was swiftly and severely corrected by a number of people, and my name was on the 'Winners' List,' so who am I to argue.

"Not sure what year the 'biggie' was – 2002, I think – but I was awarded a spot in the 'Next Big Thing' tent at the Baltimore Book Festival."

Carol:

"I decided to call myself 'award-winning' after I scooped my third award, Reader's Views Reviewer's Choice 2012 for humor, for my first novel, Mini Skirts and Laughter Lines. Up until then I hadn't considered using the label even though I had awards. I was chatting to other Indies who called themselves award-winning even though they might only have a First Chapter award. It seemed silly not to alert people to the fact that the book had won awards."

Tahlia:

For Tahlia, it was a BRAG medallion that convinced her to use the label. BRAG (Book Readers Appreciation Group) recognizes and awards quality works by self-published authors.
How big of an award do you need to legitimately call yourself award-winning?
Tahlia:

"Anything judged by professionals—not voted on by readers—that has rigorous standards applied and that you know isn't easy to get."

Carol:

"It's been a bit of a learning curve and at first I believed all awards were worthwhile. With hindsight I now believe you should try to get a recognized award. This is very difficult if you are self-published; so, go for the most prestigious Indie awards. Lots of awards give stickers to their entrants and to be honest, they don't mean a lot."

Kat:

Speaking of her early awards, Kat wrote: "I would probably write both of those off except for the fact that the book got so much attention: two different movie contracts and contracts from two different publishers (one for the eBook and one for the print version)."
If you have to pay an entry fee for the competition, does that lessen its legitimacy?
Tahlia:

"Yes, because they're under pressure to deliver an award even if there isn't someone deserving of it. You're only competing against books that can afford the fee, not a wide range, and there may be only a few entries into a category as well, in which case it's not much of a competition. A small admin fee is okay, like $10."

Carol:

Tough question. It's true to say that you shouldn't have to pay more than a token amount for an award. The best awards don't ask for anything more than a minor administration fee and most prestigious awards don't even demand that. I now only enter awards that require nothing more than a form filling in and copies of your book.

Kat:

"I don't feel authors should have to pay a lot to be considered for an award. Many Indie authors are verging on being completely broke and therefore that excludes them/us from participating. If a good portion of the field is eliminated due to financial constraints, how is that fair?"
Well! What to make of all that? Professionals, not readers, did judge the book but the relatively high entry fee may have reduced competition. The award is moderate, not a "biggie" and is just in its third year.
So, to please Squire Bravado I will call the book award-winning. For Mr. Modesty, I will hold off wearing that label for now.
---
Shaun J. McLaughlin is a researcher, journalist and technical writer. His first novel, Counter Currents, won the 2013 silver medal for Historical Literature Fiction-Modern (set 1500-1940 AD) awarded by Dan Poynter's Global Ebook Awards, and was awarded a place on the Awesome Indies list of quality independent fiction.Learn more about Shaun from his Amazon author page.