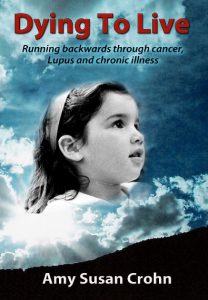 Dying to Live
by Amy Susan Crohn
Available from Amazon and Barnes & Noble.
At age 36, Amy Susan Crohn was diagnosed with Stage IV cancer and Lupus, a dual diagnosis that was considered terminal. After her first highly invasive biopsy surgery, she was pronounced dead and revived with an emergency tracheotomy. The next three years were a cauldron of chronic care, surgeries, chemotherapy, rehabilitation, and her terrific fight to ensure that her husband and two young sons would not be left to bury her.
Moreover, Amy learned about national and international studies that link childhood maltreatment with adult physical illness. Amy's own childhood, as the descendant of a famous doctor herself, was fraught with dysfunction that led her to suppress the distress of the first 18 years of her life that finally exploded as a cancerous tumor wedged between her heart and lung and an autoimmune disease that caused critical issues with her treatment. This made her somewhat of a medical celebrity in the connecting circles of the New York City area hospitals where she was treated.
Experiencing challenges that she never thought she could face, Amy survived to tell her story to help others who face any adversity that devastates the mind, body and family. She is cautious yet inspiring when she describes her experience on the other side during her near-death and realizes that there are many "professional patients" who struggle daily with chronic side effects from cancer treatment. Coupled with other disorders, particularly of the autoimmune kind, she also delves into the psychological aspects of dealing every day with emotions that range from fear to elation and measuring life in moments.
This is Amy's first introduction to the public with a strong message in a memoir that will resonate with survivors of any catastrophic illness as well as those who feel they must hide their chronic disabilities to continue to work and tend to their families.