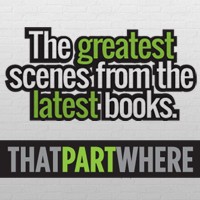 Get Readers Between Your Covers
We know that the good stuff is between the covers of your book. It's not a special price that makes your book unique. It's the story inside. That's what people love and that's why we started That Part Where—a new way to promote your book.
We're authors ourselves and we became frustrated by both the insistence of price promotion and short duration of exposure on other book promo sites. We had this crazy idea that we could sell our books at a fair price instead of always giving them away.
We wanted to change the way books were marketed so we created That Part Where to be different from all other book promotion sites.
So, how is it different?
We don't focus on discounts or giveaways. We focus on what really makes a book great—the scenes inside. We share an exciting scene of your choosing with our readers. You know the scene we're talking about. It's that part where the reader gets a great sense of your writing style, the characters and just has to go buy the book to find out what happens next. Cracking open the covers and reading a scene is one of the biggest ways readers decide to purchase a book. We put your sample right in front of them.
We create a custom ad based on the scene that you can use to drive people to the post. It will feature your cover and a headline written specifically for that scene and you can use it wherever and whenever you want.
We're going to use that ad as well. Bestseller ranks are most affected by consistent sales, not spikes. We want to drive readers to your post for more than a single day. That's why we'll include your That Part Where ad in our online campaign for 30 days. We target avid readers across Google and when they click on the ad they will be taken directly to your post.
We're indie priced. We know how things are. We're indies, too. We'll share your scene, create the ad and include it in our online campaign for just $10.
It's simple really. And, that's how we want it. We want to make promoting your book easy, effective and affordable. And we want to do it by focusing on what makes every book unique—the story inside.
Check out ThatPartWhere.com and get some readers between your covers.
---
Indies Unlimited does not endorse or support any specific providers of  products or services.