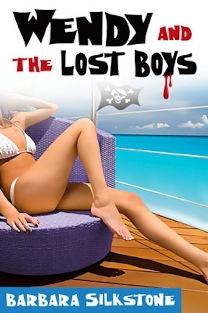 Wendy and the Lost Boys
by Barbara Silkstone
Genre: Comedy Mystery
Word count: 52K
Who knew Tomb Raiding could be addictive? Real estate agent for Miami Beach millionaires, Wendy Darlin, clashes with world famous archaeologist Roger Jolley. He follows her out to sea on a mega-yacht owned by Charlie Hook, a Ponzi swindler on the run from federal agents and angry investors. Despite her fear of water, she finds herself a tomb raider on the Caribbean one step ahead of modern day pirates. Will she find the Lost Boys? Will she escape Hook's clutches? And whom will she find on Nevis Island? Oh… and is Roger a good kisser?
This book is available from Amazon and Audible.com.
Barbara, how did you come up with the title for your book? Does it have any special meaning? 
Wendy Darlin started out as a fractured fairytale remotely resembling Peter Pan. A full-time real estate agent for Miami Beach millionaires, she clashed with world-famous archaeologist Roger Jolley… and the rest is history. She became hooked on tomb raiding.
Who was your favorite character and why?
Wendy Darlin is my favorite character because despite being burdened with all my phobias… fear of heights, water, and germs she soldiers on maintaining her snarkiness. In Miami Mummies due in 2014, she faces my greatest fear.
Does your book have any underlying theme, message, or moral?
Sometimes the journey you set out on is not the one you return from.
What would/could a reader or reviewer say about this book that shows they "get" you as an author?
Be aware, this is not the Peter Pan story you want your kids reading, it is clearly intended for adult readers. Yet it appeals to the childlike part of us that loved the classic original stories. Combine that childlike love with modern politics and technology, and you get this smart, snarky, hilarious mystery. The story is richly developed and leaves you guessing until the very end. I am liking this grown up version of Peter Pan even more than the original.
Give us an excerpted quote from your favorite review of this book: 
The author has managed to pull off a classic picaresque quest journey with all the bells and whistles. The plot is a modern morality tale that takes the reader on an action-filled ride with memorable characters and a lot of laughs along the way. It is Indiana Jones meets Romancing The Stone.
Where can people learn more about your writing? 
http://barbswire-ebooksandmore.blogspot.com