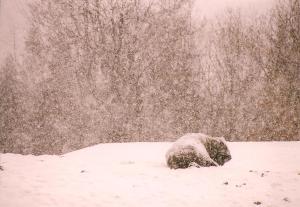 The herd had moved on and left the old bull buffalo behind. He had seen many seasons and fought many battles.
He was tired. The cold made his bones ache. His breath came raw and hard. The food had been scarce and he was weak from hunger long before the killing snow came.
From the edge of the woods, he could hear the familiar footfall of a predator. He turned his head, only half-caring. He would not fight again. It was time for the long sleep.
In the distance stood an old wolf, left behind by her pack. She was limping badly and near her end as well.
In 250 words or less, tell us a story incorporating the elements in the picture. The 250 word limit will be strictly enforced.
Please keep language and subject matter to a PG-13 level.
Use the comment section below to submit your entry. Entries will be accepted until Tuesday at 5:00 PM Pacific Time.
On Wednesday afternoon, we will open voting to the public with an online poll for the best writing entry accompanying the photo. Voting will be open until 5:00 PM Thursday.
On Friday afternoon, the winner will be recognized as we post the winning entry along with the picture as a feature. Then, at year end, the winners will be featured in an anthology like this one. Best of luck to you all in your writing!
Entries only in the comment section. Other comments will be deleted. See HERE for additional information and terms.