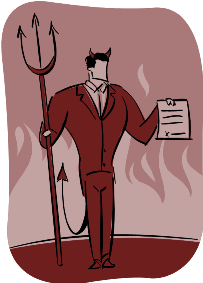 I'm feeling a little sorry for Steven Zacharias. He's the CEO of Kensington Publishing, a family-owned publishing company in New York, and this week he wrote a blog post for the Huffington Post about how authors still need publishers. You know, because they offer us so many benefits, like great editorial support and help with publicity.
Yeah, I laughed when I read that, too.
Then I asked him to clarify the following statement: "From what I've read, some e-books are quite good but, for every one of these are many more that aren't." I wasn't sure from that whether he had read many indie titles, or whether he was just going by hearsay. Turns out it's the latter. Mr. Zacharias told me, "I've only read a handful of indie published books because it's natural for a reader to go to the bestsellers where publishers have spent a lot of money marketing that author or book." Hmm, well, I'm a reader, and I don't read many bestsellers at all. It's been years since I've found much of anything on the bestseller lists that interested me. Okay, I take that back. I really liked Hugh Howey's Wool. Oh, that's right – Howey self-published the series first, didn't he?
Mr. Zacharias also makes the point that indie success stories are few and far between, and that most indies don't ever strike it rich. True enough. But neither do most trad-pubbed authors. And it used to be that midlist authors could make a decent living from their books because their publishers paid them a reasonable advance, and then got them visibility by dropping some cash on marketing for their books. Those days, I hear, are pretty much over.
Mr. Zacharias also mentioned in his reply to me that his publishing house, as well as several others, have their own ebook-only imprints. However, these types of imprints typically don't pay an advance, and while their royalty rates might be a titch better than the average trad-pubbed author gets, it's still nowhere near the 70 percent, or even 35 percent, that an indie title can earn its author.
But then he turned around and, in a reply to another commenter, pushed the importance of physical books. He said retailers still sell more dead-tree books than e-books, the growth in e-book sales slowed last year, and the only way an indie can get a dead-tree book into stores is by knocking on doors and convincing store owners to stock them. Again, he's right. And it's especially difficult to get a big-box bookstore to stock indie books. But those big-box bookstores are having troubles of their own. And smaller, independent bookstores – whose owners might be more amenable to doing business in a new way – seem to be making a comeback.
As I thought about Mr. Zacharias's points, one thing nagged at me: Why did he feel the need to write a Huffington Post article to try to convince us that working with a publisher is better than going indie? Then I realized the answer was obvious: if every author turned to self-publishing, he would have no products to sell. He needs us worse than we need him.