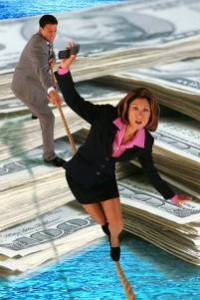 I have always admired people who can write, hold down a job, care for children, do marketing and wield a vacuum cleaner while apparently staying sane and cheerful. Sadly, I'm not one of them. I may be female, but I'm no multi-tasker. I'm more like a serial monogamist who can only concentrate on one, maybe two things at a time.
For me, family has always been THE top priority, so twenty-odd years ago I'd do technical writing during my daughter's naps, and when everyone else was asleep.
Juggling family and writing worked back then because I was writing about real things that could be approached in neat, logical chunks, all left-brain stuff. However when I began writing fiction, I discovered that the process of creating characters and worlds is very different. Creative writing is a right-brain activity, and I'm naturally a left-brain type of person.
I'm also stubborn, so I set out to coax my right-brain into dominance. Music helped, enormously, as did turning my back on most of the skills I'd gained through technical writing. As an aside, the need to be not-logical is one reason why I'm mostly a pantster.
My right-brain did come alive, but if you could read my early attempts at fiction you'd think I was writing a how-to manual rather than a science fiction story! I got there in the end [I think], but the process took a long time, and required a degree of immersion that is hard to achieve when your attention is being pulled in multiple directions at once.
Luckily for me, my daughter was older by then – going to school, socializing with her friends, playing games online – so I had the luxury of immersing myself in my stories for weeks, sometimes months at a time.
Over the last six months, however, my life as a writer has come full circle. In order to get a job as an IT trainer, I had to go back to study. Unfortunately, studying is a left-brain occupation, and now my right-brain feels as if it has atrophied.
Since my course finished two weeks ago, I've been telling myself that the creativity will come back once the distractions of Christmas are over, but so far not a drop of juice has flowed. All I feel is a creeping dread that this time the balance between left-brain and right-brain has tipped too far to the logical side. Or perhaps I'm just getting too old. Or perhaps I never really had that creativity in the first place…-slap-
Added to the inevitable self-doubt that creeps up on all of us, I'm also worried about what will happen when I do get a job. Training people to use computer software is a mostly left-brain process.
How will I juggle the needs of the job with the need to market the books I've already written? And how on earth will I balance all those left-brain activities with the need to write something new?
I know I've been very fortunate with my writing thus far, but I also know my coping strategies are going to have to change. And that, dear IU readers, is where you come in.
Most of you juggle jobs, writing and family [not necessarily in that order] on a daily basis. How do you do it? How do you find, or make, the time and energy to be creative? Do you have coping mechanisms you can share? Tips? Advice?
Please don't hold back, especially if, like me, you swing to the left. And yes, that dreadful pun was intended.