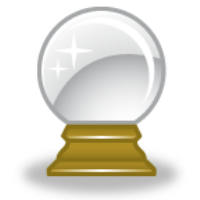 I assume everyone knows of my legendary prowess in making predictions. But then, I assume a lot of things. Anyway, I have a very solid reputation for being almost 90% right nearly 50% of the time.
It's not magic that gives me what I like to call this "fifth sense." No, I am just one of those people who can see the writing on the wall. Possibly because the teacher made me scrub it off so many times.
But I know you are all anxious to learn what horrors and joys the coming year will hold, so let us not delay a moment longer. Here are my predictions for 2014:
1. The Facebook marketing team will switch to using Twitter, since no one on Facebook can see their posts.
2. As the only remaining profitable part of the publishing business, Author Solutions will buy out the rest of the big ink publishers.
3. Amazon's own publishing labels will sue it for removing reviews on its books without explanation.
4. A software company based in Utah will produce a parallel internet in which all the bad words and naughty pictures have been removed. Launched to much public acclaim, it will fail from lack of interest after the first month.
5. The first Amazon drone (Bezos-1) will be launched. Unfortunately, it will be using an experimental propulsion system which opens a singularity. It will crash outside Roswell, New Mexico in 1947.
6. Tired of people treating EPUB as the Beta-Max of e-reading platforms, Nook, Kobo, and Sony will join forces to develop a new e-reader, called the Nookbony. Sadly, the prototype was shipped as the cargo on the Bezos-1.
7. In an ill-fated revenge bid against bookstores with coffee bars, Starbucks begins selling books and changes its name to "StarBooks."
8. Not to be left out, Smashwords announces the opening of a "virtual coffee bar." Unfortunately, a little old lady in Duluth, MN, will spill very hot virtual coffee on her lap and sue Smashwords for twenty bazillion dollars.
9. Still casting about for a profit center to prop up its flagging stores, Barnes and Noble will install dance poles in their erotic book sections. Admission will require a cover charge and a two drink minimum.
10. Indies Unlimited will purchase and place 1000 book vending machines, stocked with indie titles, in various places throughout the US. All the machines will be stolen by someone described as wearing a penguin costume. Police will remain baffled.
So, that's what's coming this year. Or it might be something sort of like that, or very different. Plan accordingly and have a great 2014.