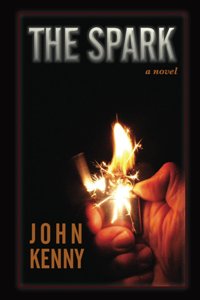 The Spark
by John Kenny
Book Genre: Action Adventure/Thriller
Available from Amazon.
Searching for the truth is the most dangerous thing firefighter Donny Robertson will ever do. Everyone believes the blaze that killed Donny's Captain, was just a tragic accident. Everyone but Donny that is. And the people who will do anything to keep the truth hidden.
Excerpt:
He was thinking too much. He was trying to plan the whole fire and they hadn't even arrived yet. He was scared. Scared was good, up to a point. Donny didn't trust anyone who wasn't a little scared going into a fire. That wasn't courage, it was stupidity, and it would get you hurt or killed. Beyond sensible caution, however, fear was just as dangerous: it led to panic, and panic was deadly. They could see the flames boiling out of the second-story window as they turned onto Pembroke Street. A crowd of people stood gawking and pointing, and a man on the front lawn was screaming about a lady trapped on the third floor. Donny took a deep breath. Trust your instincts, he told himself.
What others say: 
"The Spark" by John Kenny combines all the elements of a good crime novel: intrigue, conflict, suspense, action, and a touch of romance… Highly recommended. – Richard Blake, Reader Views