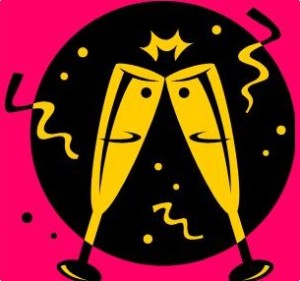 Book launches should be fun and an important part of your marketing strategy. If you have never held one before, stop being a shrinking violet and begin preparing for your first. Treat it like a proper "coming-out" party for your book and you'll thoroughly enjoy it.
Who?
First, you need to write a guest list. I mean, actually sit down and write a guest list out, on paper. Treat it like a wedding invite list. (Don't invite Uncle Trevor though. He got drunk at the last wedding and dribbled down Cousin Veronica's blouse.) Knowing the names of people and how many you expect is the key to securing a venue and for ordering the correct number of books for the event. Put the guests into one of these three categories:
1. Definitely. 'Definitely' people will show up no matter what. They are probably related to you or are your very best friends.
2. Can come. He or she is likely to turn up as long as they are in the vicinity.
3. Might come. There's a chance that he or she will come as long as something else more important doesn't turn up or there is no football on television that night.
Include all local business people you've patronized. You'd be surprised how interested they will be in your book. I managed to get my accountant and several others from the firm to come along to my last launch.
I should tell you now that it is highly likely that only the 'definitely' people will turn up but at least you'll be mentally prepared for that.
Where?
Once you have sorted out your list, you will need to find a venue. Lots of people like to launch in bookshops and, indeed, it is a good thing to nurture your relationship with your local bookstore. Also, if you hold it in a bookshop you won't need to cart around copies of your books to sell.
I have launched in bookstores, museums, libraries and a dress shop. The bookshop launch had the most publicity surrounding it. Local newspapers and radio stations promoted it and posters were plastered all over town. It was the least successful in terms of turnout. Surprisingly, the most successful was the launch I held in a local dress shop. I think it was the informality and originality of the venue that helped the launch.
A non-bookshop venue is often easier to organise and promote. Why not hold your book launch in a beauty salon, at a bowling alley, a hotel ballroom, your back yard or living room? There are no rules so use your imagination. People can be very helpful and willing to let you use their venues. The downside is that you will have to arrange your own book copies and sales. You could approach your local bookstore to help with this, as sometimes they are happy to send along a member of staff to sell at your party. Failing that, you could always ask a trusted friend to take the money while you do the book signing!
How?
Invite all the people on the list. Send out interesting and amusing invites giving them the details of the launch. Tempt them with food, prizes, etc. People are likely to be more interested in the event if it is more than just you signing a few books. It is supposed to be a launch party, after all. If you don't have as many positive replies as you hoped for, then advertise/promote the event in online newspapers, newspapers, radio and on social networking websites. There may be some unexpected guests but if you cater for a few extra people there will be no problem.
Order your books for the event in plenty of time. If you are launching at a bookstore ensure they have a good idea of how many copies to order. (See, I told you that you would need that list!) There is no point in holding the event if there are no books.
Encourage people to come to your event by offering them free food and beverages. I discovered that having grub at the party resulted in much greater attendance. For the launch of Mini Skirts and Laughter Lines, at the dress shop, we had champagne and canapés. They were generously donated by the shop owners who enjoyed high clothes sales immediately after the book launch.
Always make sure there is at least some cheese and wine. You can't go wrong with the offer of aperitifs and nibbles! Besides, a person is more willing to purchase not only your new book, but your entire back catalogue, if they have just quaffed three glasses of that cheap 13% proof alcohol you bought from the off-licence. You don't need to give them truffles and quails eggs. Crisps and nuts are just as good. Just don't give the poor folk your mother's home-made wine. My mother's stuff strips enamel from your teeth.
Make your launch interesting by giving an amusing speech or a reading from your book. People like to learn details about the author, so funny anecdotes always go down well.
You could even turn it into a themed event based on your book and offer prizes for the best costume. I have seen witch, vampires and alien events.
Add some special touches by giving small gift or goodie bags as a 'thank you' to your guests when they arrive. I procured fifty gift bags of goodies from Clarins for Mini Skirts and Laughter Lines by offering to write about the products on my blog. The guests loved the little samples and it cost me nothing. You can buy cheap tote bags and fill them with small tokens: bookmarks, sweets, pens or anything you fancy. When I launched Surfing in Stilettos I gave away chocolate heeled shoes and stiletto key rings in bags. People loved them.
How about a raffle? I raffled a basket of products to enjoy while reading my book in the bath: perfumed soap, fragrant bath salts, a small bottle of champagne, and of course, a copy of another of my books.
So, now you have some ideas to help you with a launch. Finally, remember to be the 'belle' or the 'beau' of the ball (not a diva). You are the gracious host and you must thank everyone for attending. Don't be nervous or try to hide in the punchbowl. Smile, and enjoy it. Good luck! By the way, don't forget my invite.