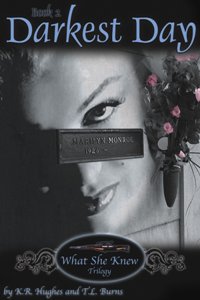 Darkest Day
by K.R. Hughes and T.L. Burns
Genre: Historical Fiction
Word count: 63,595
On the tragic day of John F. Kennedy's assassination, the nation mourns the loss of a president who stood for radical change and whose charisma carried him through the masses with never before seen devotion. Kennedy's determination to pay the U.S. back for his good fortune never wavered, with a presidency riddled in strife from the Cuban Missile Crisis to the Cold War and finally to the Vietnam conflict nothing was easy for him.
In this novel, Kennedy isn't on a world tour or even in Texas in 1963. Instead he is in the Alps recovering from back surgery, a ruse that he had planned with Bobby, and his double months in advance of the tour. With the oval office tapped and the ever-present Bobby running interference there was little likelihood that anyone would realize this was not the president. In fact, no one did.
Now, the world believes their beloved president is dead, there is no going back for Jack. While the decisions are difficult, it is far better to leave his 'death' alone than to risk political failure for his family clan and ridicule for his young widow.
Kennedy must now take on another face, name, and identity. Who is behind the assassination? What was the ultimate goal in killing the president? Was it to topple the American government and take down the Kennedy's with it? Find out in this action packed conspiracy novel.
This book is available from Amazon. 
How did you come up with the title for your book? Does it have any special meaning?
With all the events leading up to the assassination of JFK, and the aftermath that the US is still reeling from today, it was truly one of the darkest days in our history.
Who was your favorite character and why?
If we have to choose one, then it would have to be Marilyn Monroe. She really comes in to her own in book two and shows our readers just how strong and smart a woman she really was.
Does your book have any underlying theme, message, or moral?
With all the research we did for this series, it's clear to us that there is more than meets the 'public' eye. Still so much of the records from that event is classified. We can't help but wonder why?
What would/could a reader or reviewer say about this book that shows they "get" you as an author?
That Marilyn was not a dumb blond and that there is more to history than the average person ever knows about.
Give us an excerpted quote from your favorite review of this book: 
"The drama, suspense and constant action in this work keeps you riveted to the pages, never knowing what lies around the corner."
Where can people learn more about your writing?
http://www.kandtproductions.com