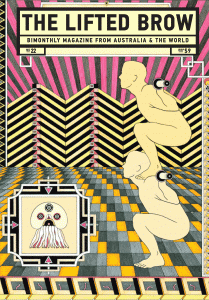 The Lifted Brow Digital Edition, a fortnightly magazine for iOS devices, is now accepting pitches for non-fiction pieces, and also submissions of poetry! Non-fiction pitches can either be for essays and longform work (2000+ words), or shorter commentary pieces (à la columns, lists, criticism, a review of that time you explored the sewers; you know the drill). Please send no more than two pitches of each form.
Prizes: Varies – see website.
Entry fees: Free
Postmark deadline: May 23, 2014
For more information, please visit their website.
*      *      *      *      *
Indies Unlimited is pleased to provide this contest information for the convenience of our readers. We do not, however, endorse this or any contest/competition. Entrants should always research a competition prior to entering.