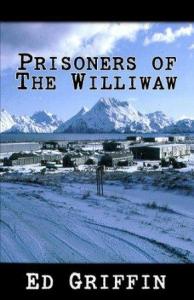 Prisoners of the Williwaw
by Ed Griffin
Genre of this Book: action/adventure
Word count: 94,000
Frank Villa has everything he asked for. He wrote a book proposing that the government give him and other convicts an abandoned island in the Aleutians. Let their families accompany them, with no more welfare checks, and no more three squares and a cot. They're on their own. The government saves millions and Frank gets his freedom, except for the Coast Guard keeping them all on the island.
The native Aleuts know the Aleutians better. A fierce wind, called a Williwaw, roams the islands, tearing down the works of man. Now Williwaw is trying to drive Frank off the island with rain and snow eighty-five percent of the time. And this god gets a lot of help from Boss Gilmore, another convict, who's eager to pocket whatever money the men have. Gilmore opens a bar and a house of prostitution, he sells drugs and weapons.
Convicts hate cops, but that's exactly what Frank needs – a cop, law and order. If he fails, it's back to prison for the rest of his life.
This book is available from Amazon. Continue reading "Book Brief: Prisoners of the Williwaw"