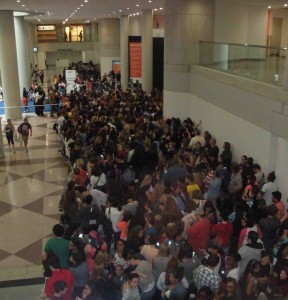 Holy aching feet, I'm tired. And that was from just one day of walking BEA (Book Expo of America), one of the biggest publishing dog-and-pony shows in the world. Here are some of the highlights, from an indie perspective:
BEA is clearly pinched for cash…or New York is getting too expensive. From the drastic reduction in swag (I could have made a killing selling lanyards for badges) it was pretty clear that participants were tightening their belts. This was the first year that BEA attached BookCon to the program. (Basically ComicCon with books.) Eight million readers paid thirty bucks to hear some of the biggest names in traditional publishing (and some celebrity authors) discuss their work, and maybe get a glimpse or an autograph. And Cary Elwes.
Okay, I might have been exaggerating about the numbers, but it felt like eight million. Most of them were in line to see John Green. Already, some annoyed bloggers have been taking BEA to task for this addition, but if it brings in more money, I don't expect anything to change for next year. Or maybe I'm just miffed that not only did this make the restroom lines extra long, I also missed a chance to meet Stan Lee and Carl Hiaasen.
Amazon still isn't talking. KDP/CreateSpace has a booth at BEA, and has been at other book-related trade shows I've attended. We play a little game. I ask questions. The answers come in two varieties. If it's technical, I get a head tilt and, "Contact our technical support people." If it's general, say, why they dropped the charge for extended distribution, they say, "Because we love authors!" If we turned this into a drinking game, that would be a very bad thing. This year, I asked why it's such a problem letting CreateSpace format an e-book. I was told that if I came back at 1:30, their expert, Melissa, would talk to me about anything I wanted to know. Yeah, I shouldn't have gotten my hopes up. When I came back at my appointed time, Melissa had left for the day. On a positive note, the new matte covers look really, really good. Because they love authors.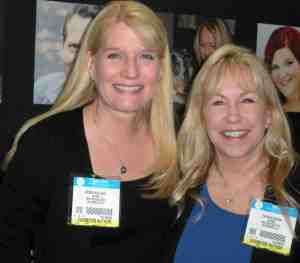 Best-selling Indies are back! For the third year, Hugh Howey, among a very accessible and accomplished group of top-selling indies like Bella Andre, CJ Lyons, Barbara Freethy, Debra Holland, and Theresa Ragan, ponied up for their own booth at the show. Great to see them and I hope that there are even more of them next year.
Bublish is making some interesting changes that I look forward to talking about with founder Kathy Meis soon. And yes, they will be offering click-through metrics and other goodies. For a price, but you probably figured that out already.
Smashwords founder, Mark Coker, gave a couple of presentations as part of UPublishU, a one-day conference on self-publishing also attached to the big show. Last year, they announced the possibility of pre-ordering, something Amazon does not offer the average indie author. This year, Smashwords has something really cool brewing, but I'm not allowed to talk about it yet, or else Coker has threatened to put all my books behind the grownup curtain.
Librify partnering with Target. Some of you might have heard about Librify, a new company that wants to create a book club featuring e-books, backed up by Target. One of the first questions we IU minions asked around the gruel pot was if indies would be included. According to one of the representatives I spoke with at the show…yes! Not right away, though. We'll be watching this one.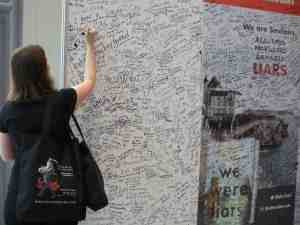 I'm looking forward to bringing you more about these new happenings in future posts. And I'll leave you with one of the coolest and most popular promos I saw at the show, outside of getting your picture taken with Grumpy Cat. To promote the new trad-pub book by E. Lockhart, We Were Liars, people were handed Sharpies and invited to write lies on a blow-up of a modified version of the cover. Most frequent lies were "I hate reading!" Pretty cool idea, and maybe something you'll want to try for your next event.