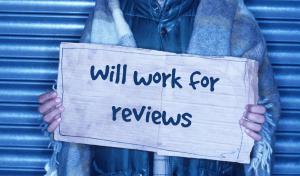 Recently, someone I know received one of my books as a gift (thanks, Mom!), loved it, and was kind enough to leave it a five-star review on Amazon. YAY! So, I emailed her to thank her. I told her that I appreciated her taking the time to do it, and that reviews were very important. I received an email back asking why.
That really got me thinking. One reason authors may find it such a struggle to get reviews is because readers may not realize how important they actually are.
As authors, we know the answer to this question is complicated. Of course, the obvious, simple response is that reviews are important because they help convince potential readers that this book will be enjoyable and they should buy it. Reviews, even critical ones, are valuable, as they help set reader expectations.
There is much more hinging on reviews than just that, however. Authors know that many advertising and book promotion sites require a certain number of reviews in order to use their service. They want to know that the book is decent quality, and reviews play a major factor in how they determine whether or not a book is accepted for promotion. No reviews on a book? No promotion. No advertising. In this business, if you don't advertise, you don't sell any books. See the image below:

That screen capture is from one of the best book promotion sites on the internet. They're not going to risk their reputation on books that could be awful, and they don't have the time to read every one that is submitted. Reviews are a convenient way for them to cull books that are poorly rated.
It has been rumored that the number of reviews on Amazon impacts a book's rankings and visibility, making it easier for readers to find when they search for a book. We have not been able to confirm that. However, we do know that the number of reviews does affect the visibility during a promotion, as Amazon has a Top Rated section for each category. We believe that books on the bestseller's list that have a lot of good reviews land on this additional classification. See the screen below:

You will see in the screen capture above that Mr. Pish Goes to the Farm was a #2 bestseller (shortly before he went to #1!) in the Elementary School category. (See above, top right corner.) You will also notice that the Elementary School category has a Hot New Releases segment as well as a Top Rated segment. Books with a lot of reviews make it into the Top Rated section. Mr. Pish was #7. Yes, 1, 2, 7. That's "new" math. New to pretty much everybody. In any case, having a lot of reviews got Mr. Pish Goes to the Farm added visibility, for which we are very grateful!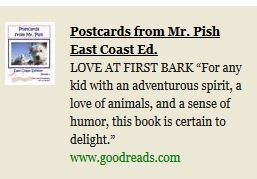 Reviews are also good marketing tools. Quotes from reviews make great ad copy, tweets, and posts on social media. Readers shouldn't worry about leaving "quotable" reviews, though – it's easy enough to take bits from two different reviews as is done at left in this ad on Goodreads. One reviewer's comment is in all caps, another is in quotes. It would feel weird saying that stuff about my own book; I'm so grateful that a reviewer said it and I can quote them.
Many readers seem shy about leaving reviews. They feel like they will say the wrong thing, or they won't say enough. Big Al wrote a great series called Reviewing 101 that I highly recommend to anyone who is unsure about writing reviews.
Hug an author today by leaving a review. It really does make a difference. And I thank you.