One of the questions we ask authors who participate in our book brief feature is: "Does your book have any underlying theme, message, or moral?" The reason I ask that question is because I want to know what you want your readers thinking about when they have finished the book. I want to know if it is meant to prompt some kind of introspection or an examination of issues.
Some authors struggle with that question. Some will say the book is just intended as pure entertainment. Sometimes a cigar is just a cigar. I think Milton Berle said that. He may have stolen it from Freud.
If you have ever taken an English Lit class, you've had to answer questions about the underlying meaning of a book. You've also found that every literary scholar has a slightly different take on what those books mean. Personally, I often wondered if the authors were asked about it, whether they might say sometimes a cigar is just a cigar, and laugh at some of the wacky theories on the hidden meanings of their writing.
I think sometimes there is a message we put there. Sometimes there is a message the reader discovers, even if it wasn't one we put there. Sometimes, the reader misses the message altogether.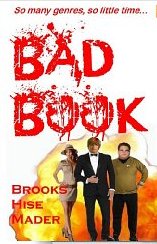 In Bad Book, the protagonist, Jim Case, goes from one adventure to another between bouts of unconsciousness. The simple truth is that Bad Book was written as pure entertainment. The device of rendering the protagonist unconscious through one means or another at the end of each chapter was simply a means of segueing into the next adventure. The reason for this is not explained until the end of the book.
However, I could make an argument that the subtext of the book is a commentary on life in general. The bouts of unconsciousness represent periods of sleep and each new adventure represents the diverse challenges of a different day. The fact the hero never quite accomplishes what he wants or hopes is relatable to many of us, who find there are simply not enough hours in the day.
In my novel, UPGRADE, I did deliberately introduce elements intended to provoke some thought and reflection. In the book, a man who has always been unattractive undergoes a procedure that makes him appear attractive to others, though the face he sees in the mirror remains unchanged. Ask yourself this question: is it enough for everyone else to see you as attractive, or do you have to see what they see? I want readers to ponder where we derive our sense of ourselves, and what roles these perceptions play in the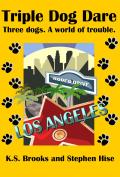 formation of our personalities. I am happy to report that a number of readers have gotten that. Some do not. I'm okay with that, because the book can be read as pure entertainment.
In Triple Dog Dare, which I co-authored with K.S. Brooks, we see a number of people's lives rather dramatically affected by a misunderstanding over a dog. It makes some characters' lives better and some much worse. That story is an analogy for the invisible hand that plays in all our lives. Life is chaotic. You cannot control everything. Stuff happens.
I think that's some pretty interesting stuff. I like to know what's between the lines. That's why I ask the question. So tell me, what are the big, underlying issues in your latest book?