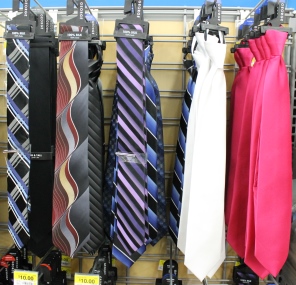 Skyler clutched the little jelly jar full of coins to his chest as he stared at the rack of neckties. This would be the first time he'd bought his dad a gift for Father's Day – and he would do it with his own money that he got from under the couch cushions. There was always some money there after dad napped.
"Look mom," Skyler said, almost awestruck at the beauty and genius of a necktie you didn't even have to tie. "Do you think dad would like that one? He doesn't have a pink one."
In 250 words or less, tell us a story incorporating the elements in the picture. The 250 word limit will be strictly enforced.
Please keep language and subject matter to a PG-13 level.
Use the comment section below to submit your entry. Entries will be accepted until Tuesday at 5:00 PM Pacific Time.
On Wednesday afternoon, we will open voting to the public with an online poll for the best writing entry accompanying the photo. Voting will be open until 5:00 PM Thursday.
On Friday afternoon, the winner will be recognized as we post the winning entry along with the picture as a feature. Then, at year end, the winners will be featured in an anthology like this one. Best of luck to you all in your writing!
Entries only in the comment section. Other comments will be deleted. See HERE for additional information and terms.