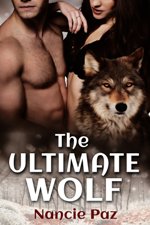 The Ultimate Wolf
by Nancie Paz
Genre of this Book: Paranormal Romance
Word count: 43,426
Austin, Texas. In this city there is a human being who possesses the ability to transform into a wolf at will. The U.S. government has been aware of his existence for five years and has relentlessly attempted to track this man down and lock him away for life. This lone wolf has managed to escape capture… but he has little time left. They're closing in on him.
Just when it seemed that all was lost, a woman came to his aid. But how can Kevin trust anyone in this world after five years of loneliness, heartbreak and hatred? And how can Amanda possibly fall in love when her past is tainted with trauma and tragedy?
This book is available from Amazon.
Nancie, how did you come up with the title for your book? Does it have any special meaning?
The main character of the book is not just any wolf—he stands above time and space as the one true mighty warrior of this century. He's not the Wimpy Wolf, the Spaghetti Wolf or the Chinese Wolf. He is… The ULTIMATE Wolf!
Who was your favorite character and why?
That's a tough question. I like all of them, but I have to say that I found Amanda's character extremely interesting. When I started writing I never imagined that her career path would have such a big influence on the story, but she sure kicked ass and chewed bubble gum!
Does your book have any underlying theme, message, or moral?
Absolutely, but I don't want to reveal it here as it would spoil the readers. But it's something that many women out there will resonate with. This is not just a romantic story between two perfect people—far from it. The details will be revealed as you read the book.
What would/could a reader or reviewer say about this book that shows they "get" you as an author?
"Nancie, your book made me kiss my husband ten times more! Now my lips are hurting because I kissed my hubby too much. Write the sequel within a few days or I will personally hunt you down!" — I believe that would be pretty convincing, don't you think? 🙂
Give us an excerpted quote from your favorite review of this book:
"This book was absolutely fantastic. The dialogue was snappy and colorful, the action swift, the characters memorable. The author brings a fresh take to the werewolf genre."
Where can people learn more about your writing?
I don't have one – you'll have to settle for my Amazon author page.