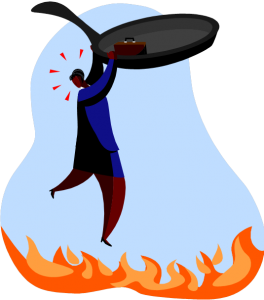 Mercury is in retrograde. I don't know what that means, but that is what someone told me about why people seem to be a little touchier than usual.
Sure, there are always some dark alleyways on the internet where you can count on seeing or participating in some sort of cyber-brawl. Indies Unlimited is not one of those places.
We like civil, even-spirited debate, and there is no reason it can't be respectful debate. We have a comment policy that spells it out pretty well. Nevertheless, I've seen a couple of weird things going on of late that I want to bring out in the open:
Flameout
This happens when parties involved in a discussion thread lose their tempers and dramatically overreact. Instead of saying:
"I am not sure I see the benefit of that. My experience has been different."
They go right for:
"That is the singlemost stupid thing I have ever heard anyone say. It redefines stupid to a new level by an order of magnitude. I am surprised the government has not used the stupidity of your comment as an excuse to shut down the internet."
The response to that of course has to be in ALL CAPS with lots of exclamation points. Then it starts to get ugly. Yikes. That is not the kind of stuff we want a first-time visitor to the site to see. It doesn't bring much credit on the poo-flingers, and converts are never won over by being shouted down.
Indies Unlimited has been up and running since October, 2011. We have published over 60,000 posts. It is not all hearts and flowers, and it shouldn't be. But there is room to disagree without being disagreeable.
Thread Hijacking
Imagine you have been asked to give a presentation before a group of people. At the end of the presentation, you ask if there are any questions. Someone in the audience stands up and asks a question, but before you can answer, someone else in the audience stands up and gives an answer. They continue back and forth, ignoring you and the rest of the audience, quickly veering away from the topic of the discussion. That is what thread hijacking is. I have seen it a lot in FB groups. Often, a serious question posed by someone looking for an affordable book cover designer will devolve into something entirely different, with no one ever answering the person who started the thread. Sidebar conversations should be taken up elsewhere. Comments made here should be on topic.
Spamming
Comment spam is rampant. We get all sorts, from fake Gucci purses to webcam girls, but those all get stopped at the gate. The kind that makes it through is usually from an actual subscriber who finds a way to work his or her book, service, or product into every conversation:
That article on the signs and symptoms of acute appendicitis was very interesting. When I was researching my book, It's All About Me, available at Amazon, I briefly flirted with giving one of the characters such a malady, but eventually decided against it.
We do have a lot of features where we invite people to post their links. Someone else's post is not an appropriate target for that kind of stuff.
Pseudo-spamming
One of the tactics a lot of comment spammers employ is to submit what appears to be an innocuous, even laudatory comment:
Nice blog.

I agree completely.

Great job. I really enjoyed this blog.
Occasionally, an actual subscriber will also write such a comment. If we can't sort it out from the real spam and it doesn't add to the discussion, we usually just trash those. Making comments specific to the topic and subsequent discussion will avoid that type of confusion.
Poaching
Imagine you are having a party and someone drops in to announce they are also having a party at their place and everyone should come over. If the sole purpose of your comment (with link) is to draw people away from this site to get traffic to yours, we're not going to feel all warm and fuzzy about that. Write us a guest post about your site. Buy some cheap advertising. We work very hard – primarily for free – to put out valuable content. Please be thoughtful and don't come over here sneaking your link into every comment trying to suck traffic from us. We don't do that to you.
There. Now I feel better. Almost like somebody pulled the mercury right out of my retrograde.