The other day, I was chatting with an author who had registered the title of her book as a hashtag. She really had it together – mentioning the hashtag in her book, and even in her book's description. I was wowed by this level of planning and technology.
"How did you know to register the hashtag?" I asked.
"It was in an article on Indies Unlimited," she answered.
Well, I'll be. And it sure was. Lynne Cantwell interviewed Kriss Morton and wrote Hashtags 501 – and I must have been so dazzled by the amazing amount of hashtag knowledge that I missed that part.
I kind of liked the idea of registering a hashtag, so I decided to give it a shot. I went to Twubs.com and entered "MrPish" in the big "enter a hashtag" box. A little wheel spun for a moment, but there were no results. Cool! This hashtag was mine, all mine! *rubbing hands together in an evil manner*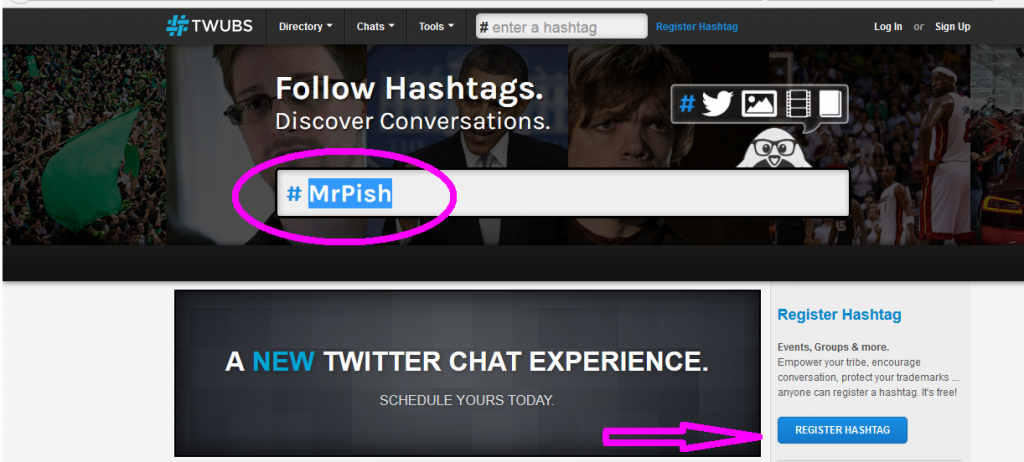 Or, you can just skip entering your desired hashtag and go straight to the blue "Register Hashtag" button next to my pink arrow.
On the next screen, enter the hashtag you'd like to register and Twubs will let you know for sure whether or not it's available – just enter it in the box center page and click "Register Hashtag." If the hashtag you want is already in use, you'll see this message:

If your hashtag is available, you'll get this message: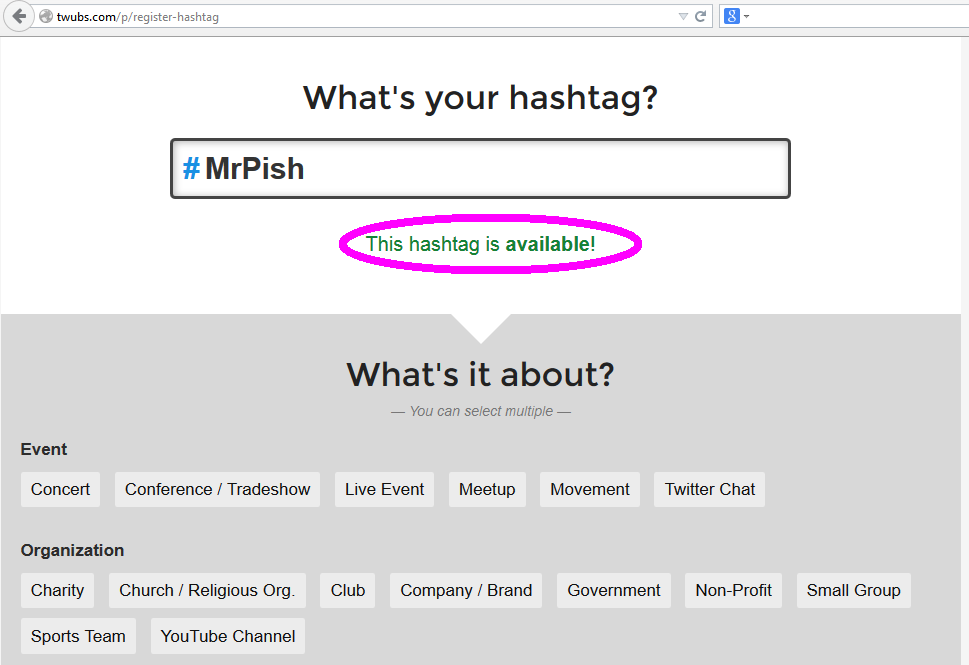 Then you can scroll down to choose the category or categories under which your hashtag fits. Since Mr. Pish fits under a number, I selected those (the blue boxes):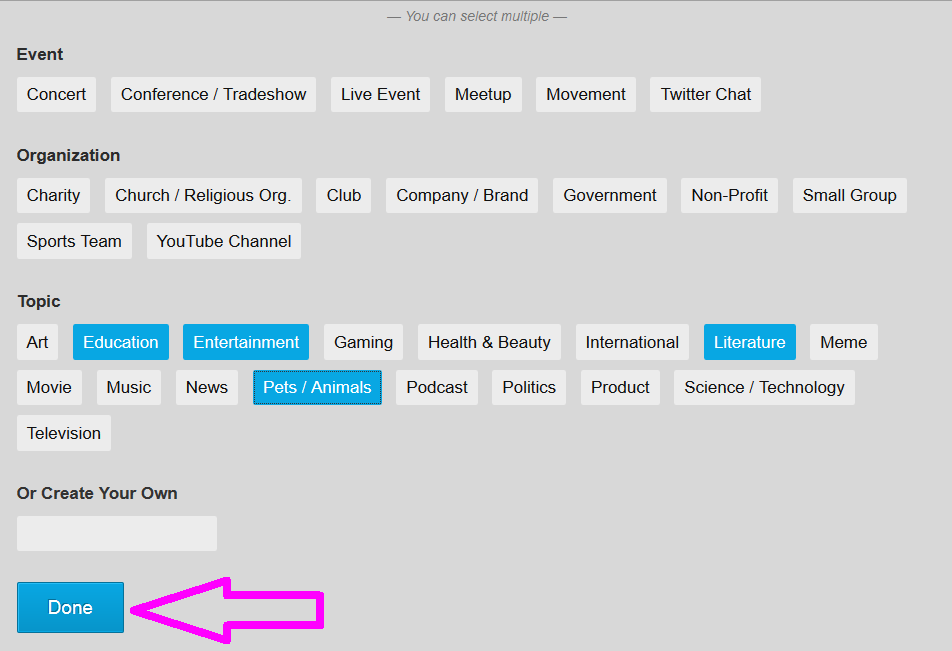 Then, I clicked done, which brought me to a screen where I could fill in my information about my hashtag: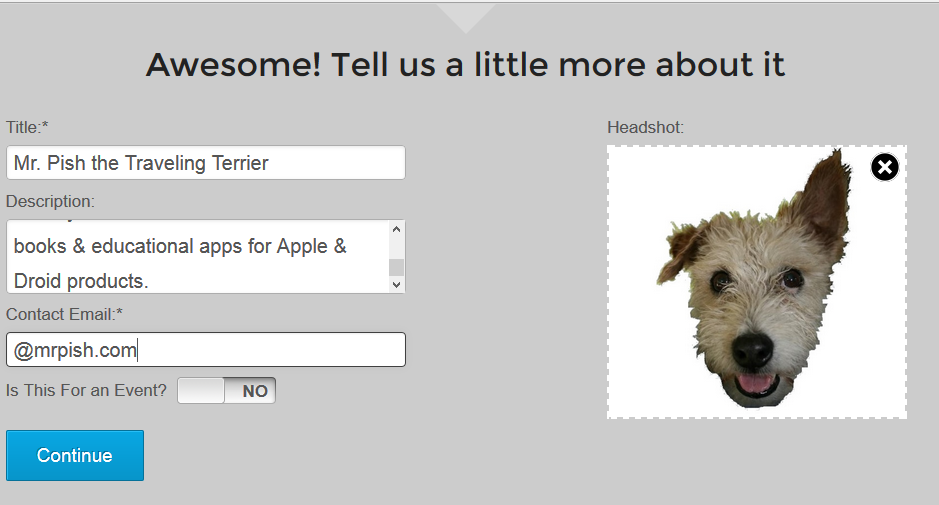 I uploaded Mr. Pish's happy face and filled in the other information. Then I clicked the blue "Continue" button.
Twubs then asked me to log in – either with Twitter or my own credentials. I picked Twitter since I assumed they might need to communicate. But what do I know? You have to click authorize, yadda yadda, and then it will direct you back to Twubs, asking you to complete your registration: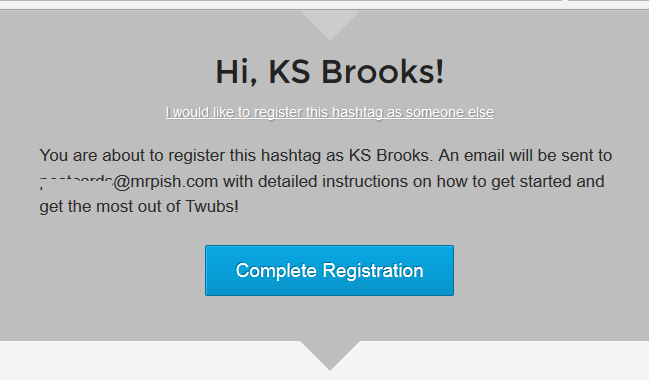 Since I already had a Twubs account, they recognized me. But, they asked if I wanted to register the hashtag under a different name – pretty cool. I'm going to stick with my name and click "Complete Registration."
The next page will congratulate you on registering your hashtag and give you three options for proceeding: View Hashtag Page, Manage Hashtag, or Live Event Widgets. I'm going with Manage Hashtag.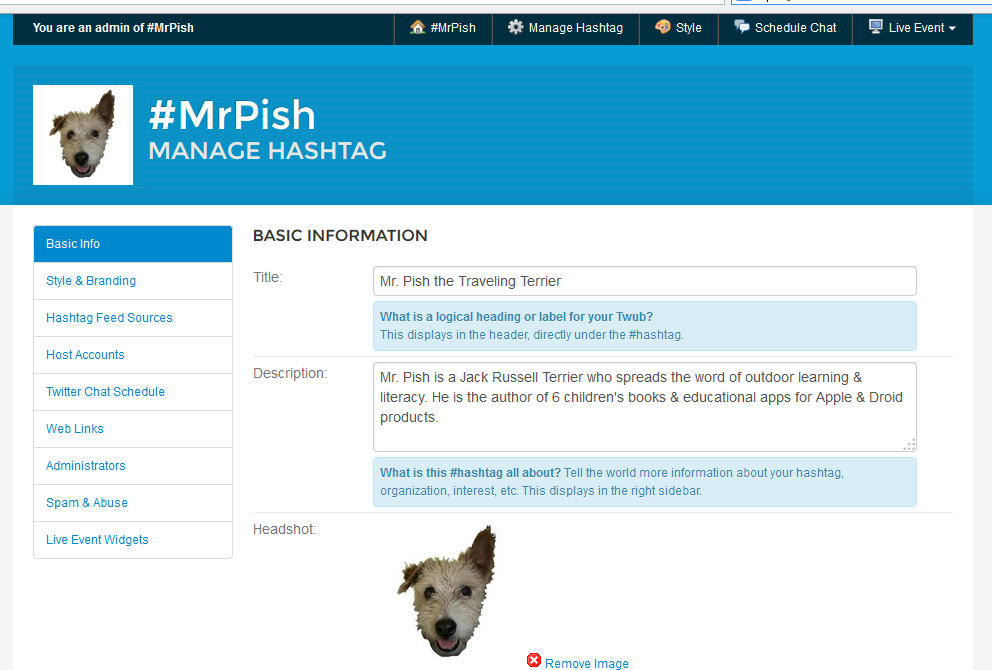 All the information entered earlier is on the screen, including a small explanation of each field highlighted in light blue by the Twubs folks. The left sidebar has some tools which allow us to customize our hashtag page, information, and branding.
Clicking on "Style & Branding" will allow you to install a background, a banner, and/or a media widget on your hashtag's Twubs page. "Host Accounts" lets you select a "main" Twitter account that will get special billing above all other posts using that hashtag. "Web Links" is nice because people can click through and learn more about whatever you want. Just add the links as I did below: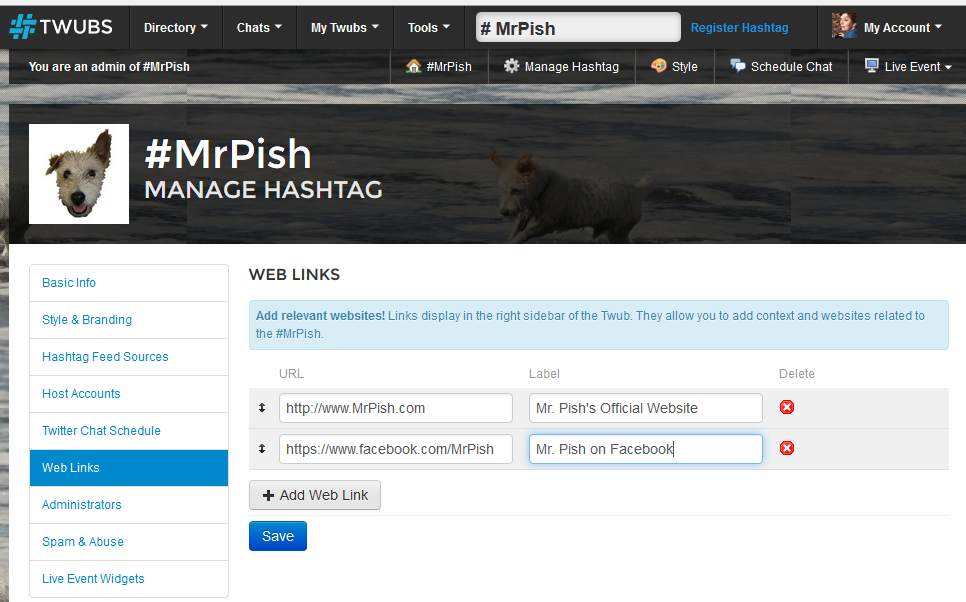 If Amazon ever gets my series page for my Mr. Pish books updated, I can include a link to that, too.
Fill in all the information you want, and upload all the graphics you want, and you'll end up with a spiffy page: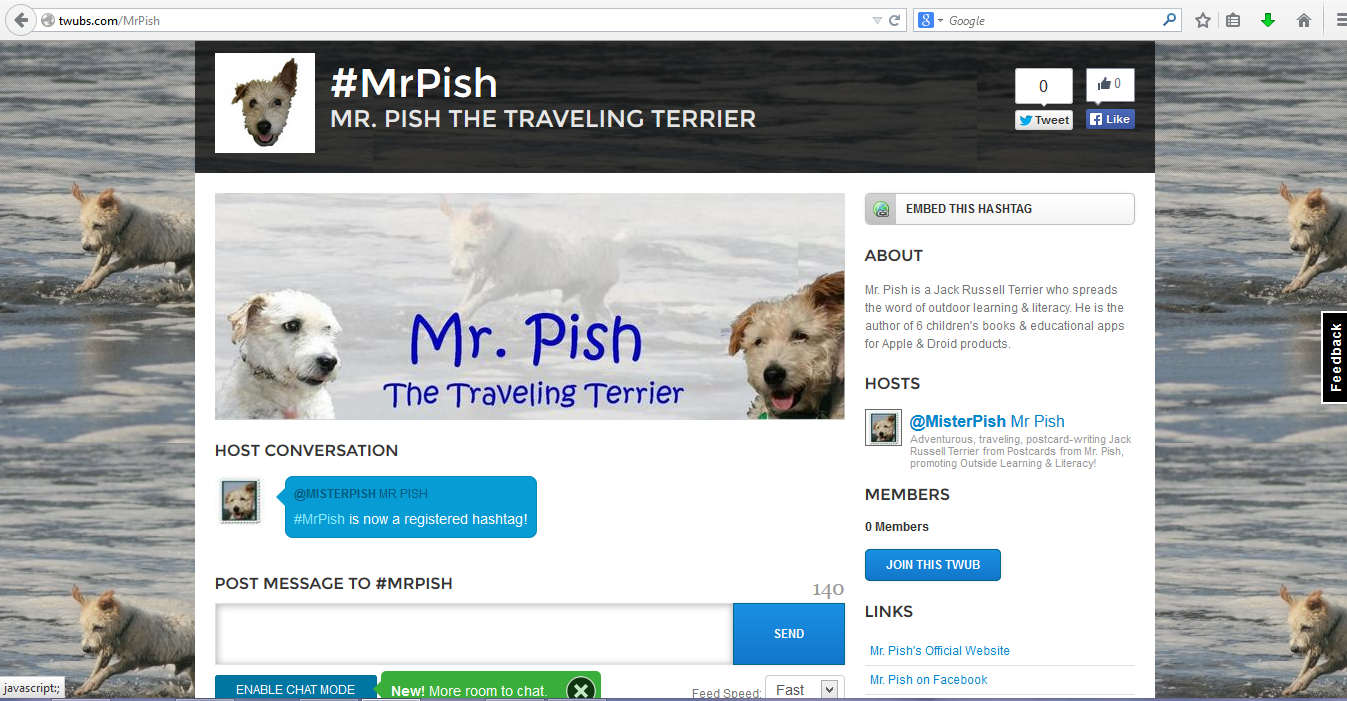 What can you do now? I have no bloody idea. I get emails suggesting I watch a video, schedule a live event, and do some other stuff that's beyond my technical horizons. So what good does it do anyone to register a hashtag? Well, all I know is, now no one else can have it. Ha ha. So tell me – what will you do with your hashtag once you've registered it?