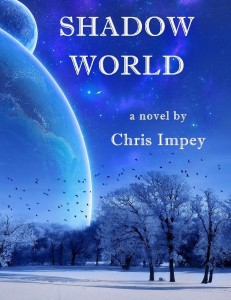 Ian McEvoy is done with Scotland. No one's ever used his first name – Ian; he's always been just McEvoy. The Scotsman is leaving his hardscrabble childhood behind and looking for adventure. McEvoy soaks up science like a sponge. Through scientists he encounters, he learns about profound puzzles built into the fabric of nature. His personal challenge is his tenuous grip on reality. McEvoy forges on from his boisterous youth in the Arizona desert to a surprising climax in the twilight zone of northern Sweden. Does McEvoy's final insight tell us about our own sense of what is real?
Shadow World, the science fiction book by Chris Impey, is available from Amazon.com and Amazon UK.

Don't forget, you can cast your vote for trailer of the month on June 28, 2014 at 1 p.m. Pacific time.