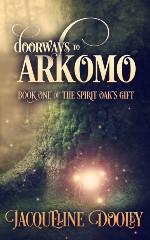 Doorways to Arkomo – Book 1 of the Spirit Oak's Gift
by Jacqueline Dooley
Genre: Fantasy
Word count: 67,000
Within Arkomo's Four Kingdoms, one hundred princes are raised in total seclusion, preparing for the Departure—a sacred ceremony that will finally allow them to live freely among their people.
But Sorel, Arkomo's only princess, fears the Departure isn't what it seems.
One night Sorel opens a magical Doorway into a strange world—the place she calls Hospital. There she meets 11-year-old Grace Woodward who is desperately ill. Hopeless and about to give up, everything changes for Grace when she meets Sorel and learns about Arkomo—a world that once only existed in her imagination.
Grace and Sorel embark on a journey to save the Princes before the winter solstice—the night of the Departure. With Grace growing sicker each day, and Sorel dangerously close to being discovered, they'll both need a miracle to survive
This book is available from Amazon, Smashwords, and Barnes & Noble.
Jacqueline, how did you come up with the title for your book? Does it have any special meaning? 
I wanted the book's title to include Arkomo's name and convey a sense of traveling to a magical land. I was inspired by classic titles such as Alice in Wonderland, The Lion, The Witch and The Wardrobe, and The Wizard of Oz. These are very classic titles that convey magic.
Who was your favorite character and why?
Grace is my favorite character because of her bravery and because she reminds me so much of my daughter. Grace is frozen in time – a very sick child who will forever be 11-years-old and stuck in the hospital.
Does your book have any underlying theme, message, or moral?
Doorways to Arkomo focuses on the bravery of children – both Grace and Sorel are children who may not survive, but are nevertheless forced to be brave. I also wrote this book so that sick children could identify with Grace and have a hero of their own.
What would/could a reader or reviewer say about this book that shows they "get" you as an author?
I hope that readers recognize that this book is focused on the friendship of Grace and Sorel – two children in very difficult situations. I also hope people feel that my writing is strong. I worked very hard on writing a solid book and I'd love to see that recognized.
Give us an excerpted quote from your favorite review of this book:
"Overall, this is a good read; a story of friendship and courage told with sensitivity through accessible prose and well-drawn characters. I look forward to the continuation of the story."
Where can people learn more about your writing?
www.doorwaystoarkomo.com