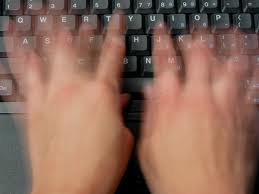 I have a goal of commenting in a positive manner on each and every review a reader leaves on Amazon about one of my books, whether their comments are negative or positive.
Why? Not only is it a courtesy, it says something about me as an author and a person. My father brought me up to look at him when he was talking and to acknowledge what he said. I didn't have to like what he said, but I had to respect it. I know now he was saying things for my own good. He's gone now, but the value he instilled in me is still there. I thanked him for how he brought me up before he passed away. I'm glad I did, as he deserved that feedback.
That brings me back to feedback in the form of reviews. Readers, who supply reviews whether negative or positive, invested their time reading one of my books. They had choices, but I was lucky enough that they chose one of mine. The fact that they felt compelled to provide others with feedback is a bonus.
However, I look at those reviews and feel they are addressed to me. I need to listen to their input, and I also can't ignore it. That is why I have goaled myself to respond to all of them in a positive manner. I want more of them, and I want readers to feel comfortable speaking their mind. When I get to a million reviews, I might need another keyboard, or whatever the latest technology is at that time. That is supposed to put a smile on your face.
In the author world, reviews are precious. Collectively, they help readers decide which book to buy. In many cases a book without reviews could be the best book out there but will still have a good chance of being overlooked by readers, and Amazon will rank the book lower. (Read this article on why reviews are important.)
Even bestselling authors get negative reviews. See M. Edward McNally's post –12 Stars for the 12 Bestselling Books of 2012. That shows that even bestselling authors fail to please everyone. It shows readers have many different tastes resulting in either one star or up to five star reviews for the same book.
I'm going to share a two star review I'm not at all proud about, but I want to make my point. This review was posted on Amazon in January of this year for the third book in my Scott Tucker series, Scent of Gardenia:
"I really, really enjoyed the first two books by Dick C. Waters. The disappointment in reading the rest of the series was, that every book had the same plot, same scenario, just a few parts were turned around. I mean really, how many freaky redheads are there? Don't answer that! How many times can the same guy end up tied up, bound…"
I didn't include the rest of the review even though it might actually increase sales, but was not in keeping with the IU being a safe-for-work site.
Here is the comment I left for that reviewer –
"Thank you for reading all of these novels and for your reviews. I wanted to create an interesting series. I'm glad you enjoyed the first two. Actually my favorite was Scent of Gardenia, which focused more on the antagonist's motives.
Readers have a wide selection of novels to choose from, and my hope is that reviews like yours will help them find novels they can enjoy reading.
Thanks again,
Dick Waters"
So, even a two-star review can sometimes carry some positives. This person definitely read the first two and "really enjoyed" them, and might have read the others based on his comment. What that reader failed to realize was that the fourth and fifth novels were two variations of the same story. One of those novels was in keeping with the style of the first three, and the other, a more adult version.
I also hinted in my response by using the plural "reviews" that the person could have balanced his/her feedback by offering positive comments against the other two novels. I didn't miss the positive in his/her reply, and maybe someone looking at the review would have noticed it also. I also try to check the "YES" box against the question "Was this review helpful to you?" Only some of the readers of the reviews are going to check that box, but it gives me an idea of how many people might be reading those reviews.
I've been asked from time to time what got me writing novels. I immediately reply – I never had a love of my required English classes. However, I got interested in writing after I read some authors I admired, and felt some had wasted my time. I thought I could write better novels, and write those I would like to read.
I know I will never please everyone, and the negative reviews hurt. However, with every review there is proof at least one person read one of my novels. When they offer a review they are helping me understand the areas which might need improvement in future novels. They also help other readers to make informed reading decisions.
I decided while writing this post to search Amazon for an author I admired, looking specifically at one of his books that had over a thousand reviews. Wow, to be that lucky on one of my novels. I scrolled through the first twenty-five pages of reviews looking specifically for any comments made in response to any review. What surprised me is not one of those two-hundred comments I looked at were made by that author. Maybe my goal of acknowledging each one is wrong.
We all look for sources to guide us, especially on unfamiliar travels. I even stop, sometimes for directions ( I did honey, don't you remember?). Indies Unlimited is a source of guidance for me on many aspects of writing. However, I think I'm alone on whether my approach to responding to all reviews is a good strategy. Regardless, with no responses from my comments or signs along the way, I think I'm heading in the right direction. Sometimes instincts will get you there. If nothing else, I'm enjoying the trip.
As a final comment, I would encourage other authors to consider looking at the reviews weekly, to value and acknowledge each new review. I think my dad had the right approach, and he didn't feel he had anything to do with my writing. He was so wrong! I look at reviewers when they are talking to me.