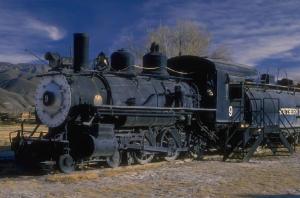 Regardless of your beliefs ‒ justify it in whatever way you have to ‒ if you stick to a particular path long enough the universe is likely to tap you on the shoulder one day and say, 'Tag! You're it!'
Oftentimes, beforehand, you are unaware that things are about to change. Be it good, bad or indifferent; stay on the same track long enough and you are going to collide with the train of destiny.
I've lived in Tasmania for ten years and I knew when I arrived here that I was moving into the path of the Roaring Forties. For the uninitiated: Tasmania lies smack bang in the path of the Roaring Forties – westerly winds that whip around the Earth between 40 and 50 degrees latitude (where there isn't a lot of land to slow it down). So I knew the risk that I was taking; just the same as someone choosing to live in California must realise the ever present danger of earthquakes.
A storm tore through our neighbourhood last Sunday night. Passing through in a matter of minutes, it was quite selective, ignoring most houses only to trash the odd one, here and there. We are of course always aware of these little flash storms, how could we not be: the Roaring Forties, et cetera, usually in a limited fashion, can be quite vicious. We generally discover the next day who the unlucky victims have been. Last Sunday it was our turn.
We heard it coming from the west, like a stampeding herd of wild horses, as we sat waiting, with bated breath. Cutting a swathe across our house, the wind tore ridge tiles off and lifted half of one side of our roof from its moorings and then dropped it with a bang! Tiles were tossed and blown away, others slipped down the side of the roof, scattering into the garden, while still more wedged in the gutter. But it could have been a lot worse. Sixty houses were hit, with one losing its entire roof ‒ blown completely off ‒ inside ceilings gone also, and walls were knocked down.
I'm one of those annoying individuals who, regardless of how crappy things get, believe we create our own reality… believe that whatever happens in our lives, in one way or another, is all down to us, individually or en mass. It could be said that I am not having a good year; Mother Nature, it seems, has served me a couple of curve balls. However I still have my health, the house insurance was up to date, and compared to the collapsed house not so far away the damage was minimal; our insurers had people on site to do temporary repairs almost within the hour.
Some of the other things that have happened this year have been much more devastating, but without going into them, I'll just say that there were plusses and minuses involved in each and every one of them. I'm not saying the good outweighed the bad; what I am saying is that life is like that: things change and you have to rebound from the events in your life or be forever at the mercy of the fickle finger of fate.
What has any of this to do with writing? I hear you ask… Everything! There are more people today who label themselves as writers than ever before, and that's alright; there are more people, period, than there has ever been before. To call yourself a writer you must write though, you know… write… stuff; regardless of how many other things and events happen in your life (you know, the old excuse: life gets in the way) you have to continue to write.
It doesn't matter what you write. In terms of the content of your writing, what you write is really only important to you, but you must write, and continue to write… something. And if you hang in there long enough, applying yourself of course, then dear friends a writer you will be. And if you stay on track, with persistence (and perhaps a little luck), out of the blue one day you will meet the train of destiny… immortalised perhaps, but please be succinct when making requests of the universe, better to be around to appreciate it; many have found immortality posthumously!