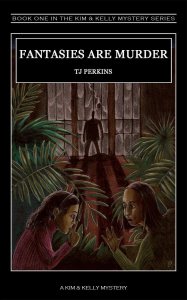 Kim & Kelly's parents take them to Shadow Manor for a murder mystery weekend. What starts out as fun turns horribly wrong as a real murder takes place. With their sights set on solving the case, Kim and Kelly place themselves in real danger. The closer they get to revealing the truth the closer they get to becoming the next victims. With only three days to solve the murder, the girls play a deadly game of cat and mouse – but who will get the cheese?
Fantasies Are Murder, the young adult mystery by TJ Perkins, is available at Amazon.com and Amazon UK.

Don't forget, you can cast your vote for trailer of the month on August 30, 2014 at 1 p.m. Pacific time.