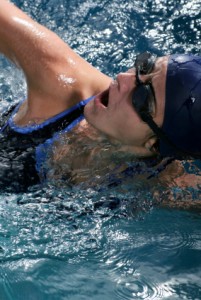 Before a series of accidents and injuries took me out of the game for good, I was a competitive runner. Not a very good one, because my choice of parents gave me tiny little legs and a lack of speed, but I enjoyed lacing up my sneaks and getting out on the road—the discipline, the feeling of accomplishment, the community. Then, somewhere around the death of disco, those experts in the running community began sounding a drumbeat about cross training. If all you did was run, they said, it increased your chances of getting bored, getting burned out, and yes, getting injured. So, along with running, I played racquetball. I race-walked. I took up yoga. I swam. I lifted weights. Not only did this stave off my eventual need to quit the sport, it helped me segue into different activities that kept me fit and generally sane without the need to sign half my income over to physical therapists and chiropractors.
This brings us to the present. During a recent interview, an author asked me, "You're so busy, how do you keep from burning out?" The first answer that popped into my head: it's cross training.
On any given day, I could be editing a client's novel, writing for freelance projects, working on one of my own manuscripts, or tackling any of the dozens of activities required for marketing my books and services. I add a little downtime when I'm feeling tired or overwhelmed, but the continual change in focus keeps my brain exercised. Each activity feeds on the other. Ghostwriting and freelance writing keep me flexible, because sometimes I'm required to be a bit of a chameleon to fit the "voice" of whomever I'm working with. That discipline has improved my ability to slide back and forth between projects and more easily drop into the characters' heads. Editing and proofreading is a different form of exercise. Each manuscript brings something new and a chance to help other authors. And sinking into my own stories has a power of attraction all its own.
If I did just one of these tasks, over and over, it sounds like a good recipe for burnout. But really, independent authors wear so many hats it's hard to imagine a scenario where we're doing just one activity all the time. Although sometimes it does feel like formatting print books for CreateSpace goes on for decades.
What keeps your mind refreshed for the next task? Do you ever feel like you're burning out? What do you do about it?