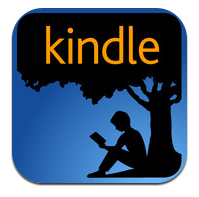 When Amazon announced that indie authors other than Hugh Howey would be allowed to offer their e-books on pre-order, the timing couldn't have been better for me to give it a try. I was in the midst of planning my next book release. The description was ready, the categories and keywords chosen, and I'd just sent the final draft of the manuscript out for copyediting.
I literally sat down at my computer, saw the heads-up from Martin Crosbie in my e-mail box (thank you, Martin!), and went to work. KDP makes it really easy (as Lynne Cantwell described in greater detail on her recent post):
1. Start a new title on your KDP dashboard.
2. Enter as much info as you can about title, contributors, keywords, categories.
3. Load a cover (if you have one…mine was accepted without one, but I added one afterward.)
4. Load a draft copy of your manuscript. If you enable the right settings, it will NOT be available for sampling or download on Amazon, so no worries that readers will get a sneak peek of something unedited. BUT, in a last-minute and disturbing discovery, if you load your book to Goodreads during the pre-order period, your preview WILL be available to US Goodreads users. [The preview is a feature Goodreads just added.] When I asked KDP about this, they suggested I talk to the Goodreads people. I'm not holding my breath for a quick solution. In the meantime, I'd suggest either loading up only your print version to Goodreads [previews are not available for print] or making sure the manuscript you submit to KDP is either the final version or one of at least the quality you'd be comfortable submitting as an ARC (advance reader copy.)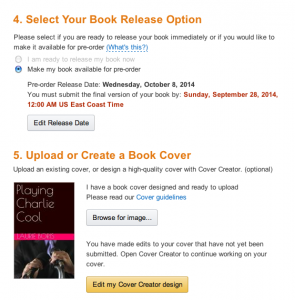 5. Set your pre-order date (from ten days away to three months max).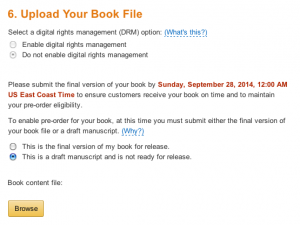 6. Wait for approval and share the pre-order link with the world!
Now, more caveats I discovered along the way.
1. Be careful with your deadline. Yes. You get a deadline. When you choose a pre-order date, KDP works backward ten days and gives you a drop-dead for loading your final materials. I guess they want to make sure we're all tidy and ready for our close-up. Or that they will have sufficient time to calculate your pre-orders into your sales ranking. Choose your date carefully. At this point, I expect to be "all systems go" before the actual date I entered. (It's that advertising background, I guess.) So I assume I can change my release date to something earlier if I want to. Missing your deadline, however, comes with penalties. One, you will be banned from pre-order privileges for a year. Two, and more importantly, your credibility with your fans could take a hit. Depending on your genre, and if you're writing a series, fans' tolerance for the next installment varies. Three, love Amazon or hate them, but they've given us an opportunity. If we give them enough evidence that we can't keep our promises, I can't imagine that they will continue to offer the privilege. After all, "customer satisfaction," at least publicly, drives the company.

2. It takes a few days for your new title to show up in Google searches. So don't flake out if you're not everywhere yet. And don't forget to log into Author Central to add your book to your author page!
3. Pre-release reviews are not possible, at least at this point. Apparently you can't upload a review until the book is released. But…your pre-order period seems like a fine time to solicit prepublication reviewers, if you're so inclined.
4. You can monitor your pre-order numbers in the KDP dashboard. It even lets you know how many you got on specific days. This is great because you can roughly attribute pre-orders with any specific announcements you've made. For example, I sent out an email newsletter to my list and saw a spike soon afterward in my pre-order numbers.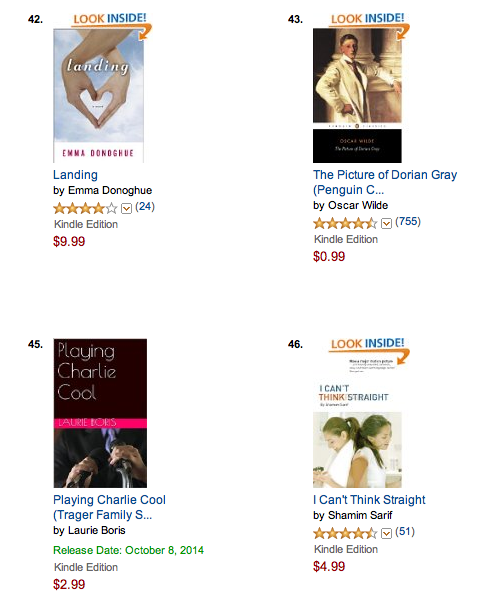 5. Woot, you get a sales ranking! Okay, it's not completely official because you haven't technically SOLD anything yet (customers aren't charged until the book is released) but it gives you some nice visibility if your pre-order numbers pop you up in your category rankings.
I don't know how this is going to turn out in the long run, but I'm looking forward to the adventure. Are any of you trying the pre-order option?