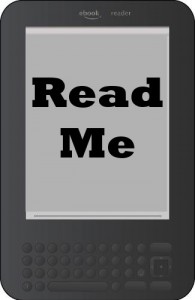 In our last exciting episode, we talked about the reasons why writers should also be readers. And as promised, I am here this week to stave off the objection I know for sure is coming: "But I don't have time to read!"
Sure, you do. You just need to take a look at your day, and plan ahead a little bit.
I've got my own strategies, but I figure I don't know everything (as my children are only too happy to remind me). So I posted the question on my Facebook page: When and how do you find time to read? And I also polled some experts on finding reading time: my friends at Kevinswatch.com, the official message board for fans of Stephen R. Donaldson.
The advice I received ranged from the sublime ("Pretend everything you read for work is fiction – most of it probably is") to the somewhat ridiculous ("You were born alone, you'll die alone… pass the time between existential voids with books!"). In between those extremes were some nuggets we can all use to maximize our reading time.
Probably the most popular time for reading, in my highly unscientific poll, was right before going to sleep. Melody Stiles says it's a ritual for her. Timothy Hurley says he spends two to three hours a night reading before bed. This is one of my favorite times to read, too; I'll read either until I can't keep my eyes open, or until the words I think I'm reading aren't the ones on the page. (Sometimes the story my half-dreaming mind makes up is better.) The only danger is that if you're deep into a really good book, you might not know when to quit. Many's the time I have finished the final chapter of a satisfying novel and only then realized it was three o'clock in the morning.
The next most frequent piece of advice was to always carry a book with you. Then when you're in line at the bank or the DMV, or waiting at the doctor's office, or anywhere else where marketers have plunked a TV screen in front of you, you can pull out your book. Smartphones make it easier than ever to do this; with a Kindle or Nook or Kobo app on your phone, your library is always in your pocket or purse. (As an added bonus, you can switch to your phone when your Kindle starts yelling at you to plug it in. Not that I've ever done that.)
Skip watching TV and read instead. Or read during the commercials and the boring bits (which, depending on the program, might cover most of the hour).
Read while commuting. I commute by bus and subway, so I always take a book to work with me.
Read while eating. Why stare at the cereal box or the depressing headlines in the paper, when you could be reading a book?
Read in the bath. Caroline Gebbie says she brings a paperback in the tub with her. It would probably be best to leave the Kindle elsewhere.
Read while doing other things in the bathroom. Don't look at me like that. This is not a new concept. Ever heard of Uncle John's Bathroom Reader?
Use some of your writing time as reading time. This might work especially well for writers whose families grant them only a precious few minutes each day to write. You could set aside a fraction of those minutes for reading; since the door to your lonely writer's garret will be shut, your family will never know.
A couple of people mentioned audio books. Ken La Salle listens to them while on long walks. (One of my Kevinswatch friends reads books while walking, but that might best be left to professionals.) Speaking of commuting, which we were just a minute ago, a friend used audio books to make her multi-hour daily commute bearable.
So there you have it – a whole host of suggestions for finding time in your day to read. The biggest challenge is probably for parents, because – as I know from experience – kids tend to suck up a lot of your free time. But as I also know from experience, they do sleep. Eventually. Most days.