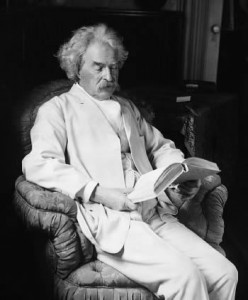 You've heard the advice often enough: To be a writer, you should write, because that's how you get better as a writer. But you should also read as much as you can.
For those of us who never met a school reading assignment they didn't like (Lynne raises her hand), this is the best news ever. But those of us who regarded their college-prep reading list with deep suspicion are going to be less than thrilled.
Really, guys, it's not as awful as it sounds. Reading shouldn't have to be a chore. For one thing, you're not in school anymore – so there's no time limit for finishing a book, no research paper requirement, and no test for comprehension at the end. No one's going to give you a bad grade if you don't finish the book, either. So if it's not to your taste, bail out and try another one.
For another thing, writers read books differently than students or literary critics do. Students, by and large, are looking for what the teacher told them to find. Literary critics are looking to pick the story apart, or to find some sort of meta-meaning that justifies the time they're going to spend crafting an essay that may or may not actually be about the book.
Writers, on the other hand, are craftsmen looking at another craftsman's handiwork. They want to know what makes the story tick. How does the story begin, and why did the author choose to start there? How does the author handle such techniques as flashbacks? What about point of view? Why did the author pick this particular narrative voice, and does it enhance the story? How do the characters convey emotion – or do they? And if they don't, why not? Does the author invent any words or phrases, and if so, why? Most of all, what can I learn from this book that I can steal – or rather, borrow – for use in my own work?
If you write in a particular genre, then you probably ought to be reading books by other authors in your genre. If you picked your genre because you love reading those kinds of books, then you're a step ahead. But even so, you can use your pleasure reading as research. Let's say you write cozy mysteries. What makes a mystery a cozy? What's the typical setting, the usual point of view, the number of characters? How convoluted is the plot? How many red herrings do other authors include in their cozy mysteries?
I don't mean to say that you have to take copious notes and deconstruct every sentence. Just keep an eye out and notice things. When I was preparing to write Seized, I had already read several urban fantasy novels. Most of them were written in first person, most of the scenes were set in urban areas, and nearly all of the characters were modern people with a magical quirk or two. It appeared to be a requirement that at least one character be a shapeshifter – and if he was a hot guy, even better. I ended up incorporating all of those characteristics in my book.
So read in your genre. But don't stop there – read outside your comfort zone, too. And yes, that may even mean dusting off the college-prep reading list that gave you such fits in high school. But read those classics as a writer. Pick a book that's more or less in your genre and look for how the classics handled the conventions. Or pick a book that's not in your genre and see if there's anything in it that you can, uh, appropriate.
And you might be pleasantly surprised. Now that you have another decade (or two or three or…) of living under your belt, those stories you thought were boring or pretentious or impenetrable when you were sixteen may resonate with you today.
I hear you: "But I don't have time to read!" Stay tuned – I'll talk about that next week.