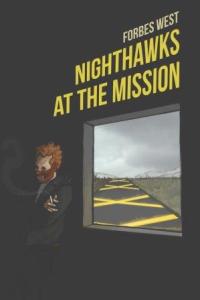 In today's universe, The Oberon is the last place a settler from the USA can find the American dream alive and well. Thousands of settlers have come to live in this mysterious land on another world accessed only by an energy portal in the South Pacific. Facing a hopeless future and betrayed by her long-time boyfriend, Sarah Orange is one of those who leave the Earth. Quickly she falls in with a group of illegal salvagers that operates at night in the empty ruins. Sarah risks death from both The Oberon's corporate overseers as well as the indigenous beings who hate the settlers. With her life spinning out of control from drug addiction, Sarah searches for love and money in a world so close to – and yet so different from- our very own. But first, she must survive a terrorist threat that slowly begins to destroy her new homeland.
Nighthawks at the Mission, the science fiction novel by Forbes West, is available at Amazon.com and Amazon UK.

Don't forget, you can cast your vote for trailer of the month on September 27, 2014 at 1 p.m. Pacific time.