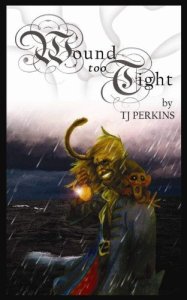 With school out, summer vacation in Maine promised to be exciting for Shawn and his friends, until they uncover a lost treasure and a very special pocket watch. Each boy keeps some treasure for himself, but a nerve-racking inscription on the inside of an enchanted watch warns of danger to those who touch the pirate's treasure.
One by one the boys begin to disappear. It's up to Shawn to discover the secret of the watch, save the lives of his friends and put an end to the wickedness unleashed on his home town – before time runs out!
Wound too Tight, the young adult suspense novel by TJ Perkins, is available at Amazon.com and Amazon UK.

Don't forget, you can cast your vote for trailer of the month on September 27, 2014 at 1 p.m. Pacific time.