A website has emerged with the goal of introducing readers to books through the power of excerpt.
Microcerpt, which is free to authors and readers, allows authors to post short excerpts (Microcerpts) from their books onto the site. Readers can browse the excerpts, and if they're tantalized by one, buy the book.
As Lynne Cantwell reminded us in her post on effective frequency, it's important to be seen in multiple places, so I joined Microcerpt in March of this year. I was going to write about it earlier, but they revamped their platform in mid-July, so I wanted to wait until that passed to see if there were any new features to discuss.
I found it fairly easy to set up a Microcerpt excerpt. To do so, you just need to create a free account. Then, you'll need to have the excerpt you want in a place that's easy for you to copy and paste from. You may also want to include an image with your Microcerpt — generally the book cover, but you can use something different if you want.
Microcerpts are limited to 1,000 words, so pick a section of text that is intriguing and exciting within that word count. (The Evil Mastermind wrote a post about choosing an effective excerpt here.) A new feature that was added in the site revamp is the ability to put a link at the bottom of your Microcerpt to your book on Amazon. When I first signed up, that was not a choice, but it was there when I added my latest Microcerpt.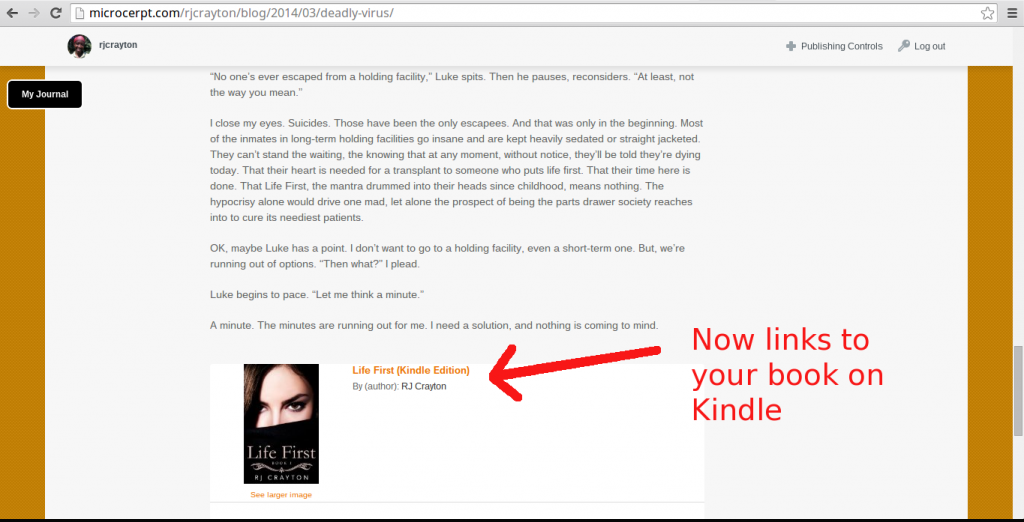 You can add as many Microcerpts as you want, but they have to have different titles. So, if you wanted multiple Microcerpts from one book, you'd need to differentiate them. This can be done with a simple word or two. For example, you can use Book Name – Excerpt 1, and then title the next one Book Name – Excerpt 2. However, since this is a marketing tool, you may want to have a little more fun with it. I titled one of my excerpts Life First – Deadly Virus and the other Life First – Marked.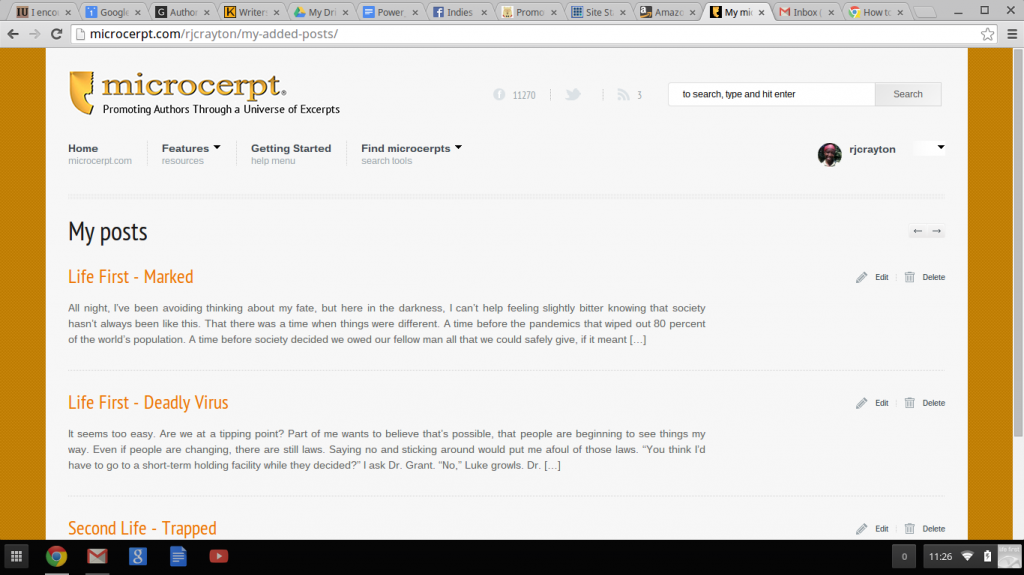 Once you've finished filling out the info form to create the Microcerpt, including keywords so searchers can find your work, you'll click "Submit Post." When you do this, all your information disappears so you see a blank version of every field you just filled out. This is initially disconcerting, but don't worry. Your post did not disappear into the ether. Scroll to the bottom of the page, and you'll see a little green box with the words, "You can check your post here." Click the hyperlinked "here" and you'll see your Microcerpt. You can also see it from the navigation menu on the right side of the page (under my Microcerpts).
Microcerpt posts excerpts to its social networks, but free accounts get a maximum of one posting per week (though it's not guaranteed), no matter how often/many Microcerpts the account user posts. You can pay a fee to get additional social networking posts, prominent positioning on the home page, or other services. The site has roughly 11,000 Facebook fans and 10,000 Twitter followers.
In addition to the exposure to potential readers, Microcerpt also has interactive forums, such as "Authors Helping Authors," "Book Reviews & Authors" and "Book Marketing Support Group." While I uploaded my first Microcerpt a few months back and receive a digest of the forum posts, I haven't gotten a good sense of how many readers actively participate on the site or view the excerpts. However, because it's free exposure, I don't see any downside to posting an excerpt on the site.