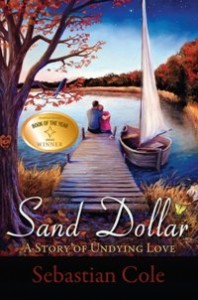 Sand Dollar
by Sebastian Cole
Genre: Romance/Fantasy
Available from Amazon.
Robin's love saves Noah by inspiring him to stand up to his powerful parents and reclaim his true self at all costs. But Robin harbors a devastating secret. Is it enough that two soul mates have found each other, or are the forces that would tear them apart too great?
Excerpt:
"Because for me, the sand dollar represents how fragile life really is. What was once so very precious, suddenly and without warning, disintegrated and vanished before my eyes. Seemingly solid and secure in our hands, the blessings we have in our lives today are easily shattered tomorrow."

"The lesson learned: Never take your loved ones for granted. And if you're ever lucky enough to find that one person in life who makes you love more than any other person could possibly make you love, you treat every day together as if it were your last. You cherish every moment."

"However, for me, this lesson came too late, for she was already gone. And there was nothing I could do to put the pieces back together. I would spend my life wishing I could somehow travel back, back in time, to the day I first laid eyes on that precious beauty…"
What others say:
"So to the hopeless romantics out there I say, Highly Recommended – have at it, this is a must-read. To the snarling cynics like me who mentally have their arms akimbo and their eyebrow raised, I say pick up Sand Dollar: A Story of Undying Love and surprise yourself by discovering the romantic in you." – Bookideas.com